Within the next two weeks, COR Entertainment will release version 7.65 of Alien Arena, a release that heavily focuses on performance improvements nearly too astronomical to believe. In our last article we mentioned the mesh rendering and moving the animation to the GPU, which allowed for full use of VBO for all of our meshes, static and animated. This also touched our shadow rendering system as well, but an equally impressive set of gains were made in the map rendering. A near complete rewrite of the renderer since our last release is probably the best way to describe all of this. For the past six months, we have focused primarily on performance, and the results speak for themselves. In a nutshell, the CRX engine now renders 3 to 4 times faster than it did in July! It is now among the fastest of the id tech based game engines in existence.
We didn't stop with that though. We added high definition lightmapping, cubemapped surfaces on mesh and maps, better soft shadows, spectator mode updates and fixes, and updated some of our player models with a few extra polygons in places that they needed it now that we aren't as restricted with that.
Aside from this, as you know we mentioned the revival of Alteria in our previous news post. We have made some progress on that, and you can have a look. Alteria is a long term project that we expect to be released in about two years or so, perhaps a beta with a multiplayer map for testing weapon balance sooner than that.
The other, and maybe biggest news...yes...we have started work on a new game based on the Alien Arena universe called Alien Arena Tactical. This will be offered as both a standalone as well as a mode in the full Alien Arena suite. As you would expect, it is not a deathmatch game, it is something in between that and a tactical shooter, pitting Martians against Humans in an all out war to destroy the enemy's base. Players will be able to select different classes on their team, with each having different skills and abilities. Teamwork, strategy, and cunning will be at the forefront of the game play, using slower movement than a deathmatch shooter, but a mildly faster pace than your typical tactical game. Alien Arena Tactical is expected to be completed in the summer of 2013, with a beta in the spring. More details will follow.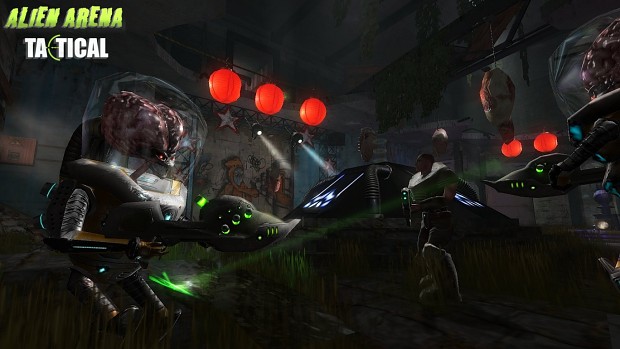 In the meantime, keep an eye out, Alien Arena 7.65 is about to hit the streets, moving at light speed!