If you own the French Version of Into the Dark, you don`t need the patch. I could re-quote the old joke and say "That`s because it is wrong to be French. No patches will be provided", but that`s not true. Actually, the French retail version is already delivered with the shiny new patch and has the revision number 1.0b right from the start.
For owners of the German and / or English version, the latest hot-fix is a must-have. It fixes three annoying (but not show-stopping) bugs and reduces the crashes to an absolute minimum because of better RAM usage.
The installation is quite easy:
Copy the "files" folder to the instalaltion directory of the game. Windows will ask for integration and overwriting. You MUST overwrite the old files. You did everything right when your game states "v10b" in the upper right corner of the main menu.
ATTENTION:
Old Savegames from Level 4 and 5 shall not be used.
Get the files from the download section here or right from our Rapidshare account:
If you aren`t hooked on Into the Dark yet, read some of the press reviews floating around: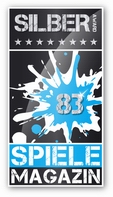 spielemagazin.de - 83%, Silver Award
FM4 @ ORF.at
Austrian State Broadcasting

Oldgamer
(English Review, 8.0 out of ten, "Into the Dark deserves the credit for inventing an almost totally new genre and combining horror and humour into an almost perfect B-Movie-experience no serious and adult gamer should miss!"