The Condor may still need voice and you can see the info here
Lets move to the next poll meanwhile.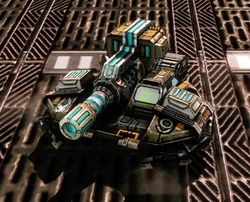 So I need your help again, this time it balance question regarding the ZOCOM.
ZOCOM now have two new units in their arsenal which can make them a bit unbalance if I won't change something, what this "something" I'm talking about?
The Zone shatter ofc.
If you played this mod and as ZOCOM you notice the Zone shatter was replaced with normal Shatter just a bit cheaper and that the Zone Shatter move to tier 3 and got bigger damage and armor while on the other hand got slower and have no call for transport ability, it's second ability (overlord beam) also got buffed but with the result of bigger cool down for both the ability and zone shatter itself (which is parlayed for some secs).
I done all of this for two reasons:
1. Because I thought that upgraded version of the shatter looked poor and didn't was that different from the normal shatter.
2. Because I thought the mammoth tank will need another tier unit for support because ZOCOM had no Juggernaut or rail guns.
Now when ZOCOM does have unique Juggernaut and EMP/AA plane, I think the Zone shatter rule had over, you don't need to tell me it look ridiculous that you have two shatters for each tier with minor differences in their rules, nor that it funny the Zone shatter is slow despite being a hover tank (which by EA / Westwood supposed to be faster (maybe even for heavy equipment) and not slower (something I didn't knew back at the day).
So now here the question, Do you think I should return the Zone shatter to how it was (and ofc remove the ZOCOM's normal shatter)?
Maybe I should at least give it a bit more of fire power and range in both normal weapon and ability compared to normal shatter?
I be honest with you that despite all of that I love to have stronger badass version of the Shatter, it just feel more threatening and awesome than the normal toy, but I can see how it also may not fit for any c&c fan and have no real rule aside being a mirror.
So what do you think I should do?
1. Change it back to how it was... come-on two sonic tanks?! are you serious?
2. Change it back but at least make it tiny bit more stronger so it will feel different from the normal shatter.
3. Leave as it is now, strong sonic tanks are awesome! :DDDD