Hello Nazi Zombies Portable Fans!
After what was a lengthy hiatus, Jukki, Ju[s]tice, and I (Blubs) are proud to present to you the NZ:P Demo....
... exactly 4 years after our initial release!
Notice that there is no alpha, nor beta attached to that name, for it is a demo. This release is a demo showcasing what's to come in the future of NZ:P.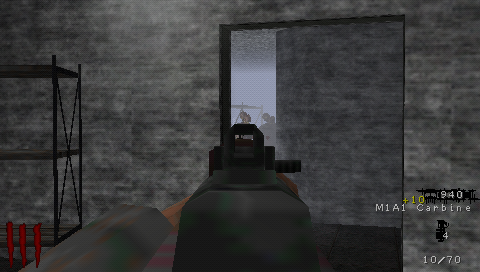 - better get them from a-far while they can't reach you...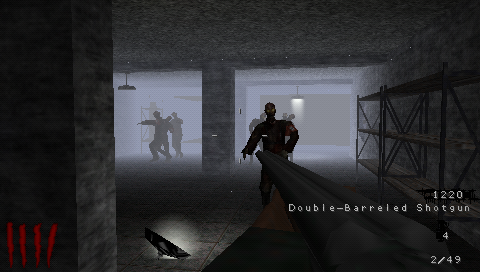 - okay, things are picking up here a bit...
Apart from having been rewritten from the ground up, (and heavily remodeled, reanimated, retextured, reworked etc...), this release showcases our determination to finish NZ:P. Our priority for this release has been stability, and playability ( which turns out is a lot more difficult than one might imagine on the Playstation Portable).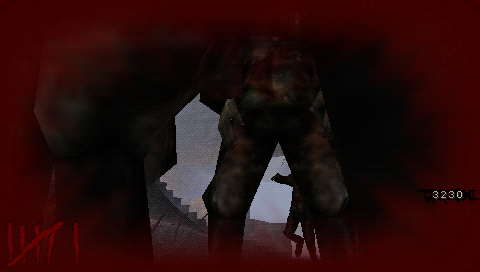 - This guy had a bad time...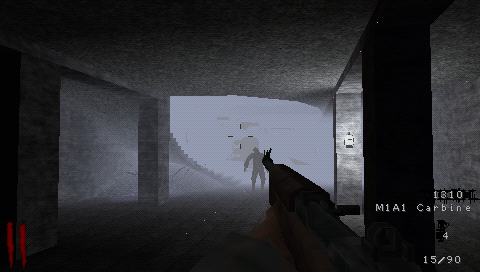 - Sure looks survivable, doesn't it?
This release contains the very primitive (yet extremely functional) foundation for which we will build off of in the future.
Within thie release, there is only one single map, Nacht der Untoten, and it only contains a handful of weapons such as:
- Colt M1911 -Kar-98k -M1A1 Carbine -M1A1 Thompson -Double Barreled Shotgun
- Sawed-off Shotgun -Trenchgun -Scoped Kar-98k -MG-42 -0.357 Magnum
This is a limited selection of weapons, we are well aware, but it's a great variety to play with!
There's a lot more miscellaneous information to be shared, but why share it when you can go in-game and check it out yourself!
As usual, multiplayer is still not officially supported, but we hope to look into it in the near future, but our focus has been set entirely on gameplay as of late. That sure doesn't mean we discourage you from poking around with it to try and get it working ;)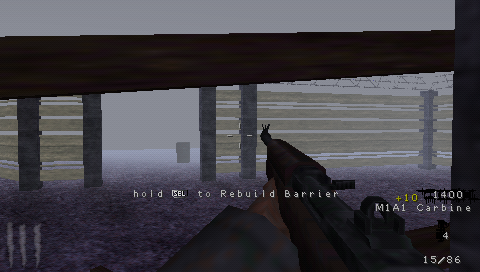 - repair dem windows, receive dem points! Not like it keeps them out for long anyways!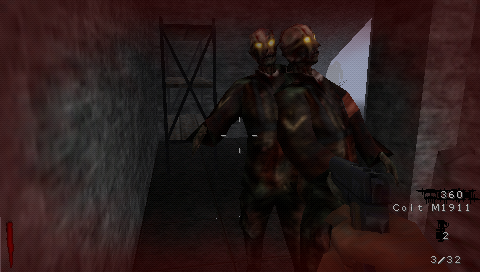 - It is not looking good for this guy...
As you'll notice, there's no immediate pc version to go along with this release, that's because there is no pc version yet!
That may sound like a bad thing at first, but it is a drastic and important change which the dev team decided to implement.
In the past, we primarily worked on the PC version, porting features chunks at a time to the PSP version, this led to a highly unstable PSP version. Not this time! This time we did ALL testing on either the PSP emulator PPSSPP and actual hardware! This time around, the PC version will be the port.
Yes a PC version is coming! But that's a piece of cake, because just about anything will run on the PC, optimized or not.
For now if you wish to enjoy NZ:P on the PC, you can download the PPSSPP emulator (which we use to test) over at www.ppsspp.org , not to mention that you can run any other PSP game you want on there!
For now, with this release we're doing something we've never done before. We're making NZ:P with the modders in mind, and as such, we're declaring this project open source! Available for download is not only the engine source code, but the entire qc source code as well! Happy Modding!
Also included is our current fgd file, for several reasons, we had to change our old fgd definitions file so unfortunately old NZ:P maps will not be compatible with this new release, but alas that just opens up the door to a whole new breed of developers!
For those keen-eyed mappers and modders, some of the old features not officially supported in the Demo *cough* perks *cough* can still be found in the mapper files, so why not give those things a go!
Alongside the updated fgd file, Ju[s]tice, our mapper, has made and compiled an example .rmf and .bsp file to showcase how some of the new changed mechanics work and how to set custom maps up! Expect more tutorials and guides soon!
Moddb.com
As an added bonus, we have included a plugin for those PSPs with custom firmware that allows the "home" button on the PSP to be bound to a control! Useful those who wish to change up the control scheme to their choosing!
Though this plugin is included, it is entirely optional, and none of the default controls rely on the home button, rest assured!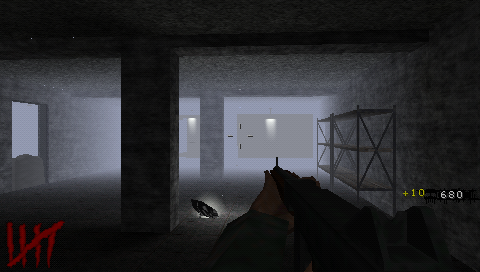 - Everybody loves the thompson!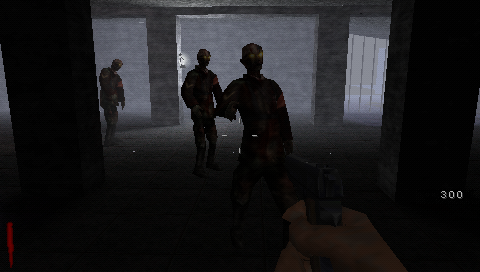 - ...hehe, good thing it's only round one, things can't pick up that quickly... can they?
As per the future of NZ:P, now that we have the foundation of the game laid out, the real fun begins for us devs!
The release that follows is going to be a good one!
So what are you waiting for? Head over to our downloads page to check it out NAOH!
Thanks for standing by us for all of this time! ...and be sure to stick around for the future that lies ahead!
Yours truly,
Blubs, Jukki, & Ju[s]tice, the NZ:P Dev team.