Ok. Let's talk about Navigation Mode. Navigation mode, is a user interface where you can visualize weather, move through a three-dimensional map of galactic bodies, and plot a course through the cosmos. We wanted these maps to be filled with detail so that navigation feels like a strange nautical voyage. We want to force players to use horse-sense to find the best routes through space. In this game… space isn't just a big empty vacuum… in real life, space is a massive, scary, empty, vacuum. Yea, there are storms out there, pockets of smooth space, gas stations, fast food chains, casinos, space-buoys, dust clouds, turbulence, varying levels of solar power, so much! Space isn't empty. Space is a Sea ™.
So we simulated a bunch of data for a small spiral galaxy, visually plotted it on a map, and created a variety of ways for a user to interact with it all. So now, you can pore over galactic maps, read these nautical bones, guess at the weather, chart a course through the stars, and attempt to survive — MuhhAHhhaHHaa. The best way to describe all this is to go through the different map elements that exist.
Yellow Bogeys
Welcome to yellow bogey nation.
Simple floating space devices that collect weather and time data. As satellite experts will tell you, without yellow bogeys, we wouldn't even know when to eat breakfast.
They let you know where it is safe to fly.
Dust Density Indicator – amount of dust resistance in the vicinity. (black square).
Solar Power Meter – amount of solar energy that can be harvested nearby. (horizontal meter).
Wind Sock – shows the direction and strength of stellar winds. (pointy line).
Turbulence Indicator – amount of turbulent storm energy in the area. (pink square).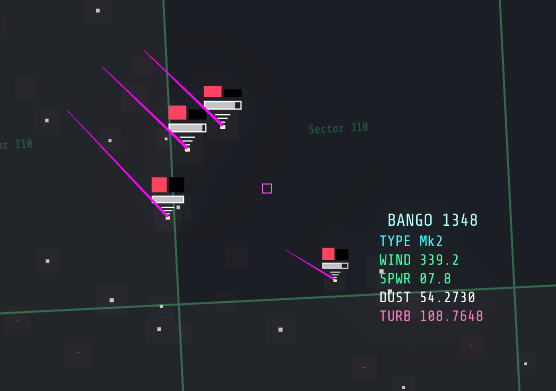 Storms
Galactic disturbances.
Violently shake / damage / destroy ships.
Getting into a storm is easier then getting out of one, both visually, and technically.
Composed of cells with various intensities.
They have strange names like Jonathan and Sandra.
They have a white vector that shows you where they are currently headed (so you can avoid them).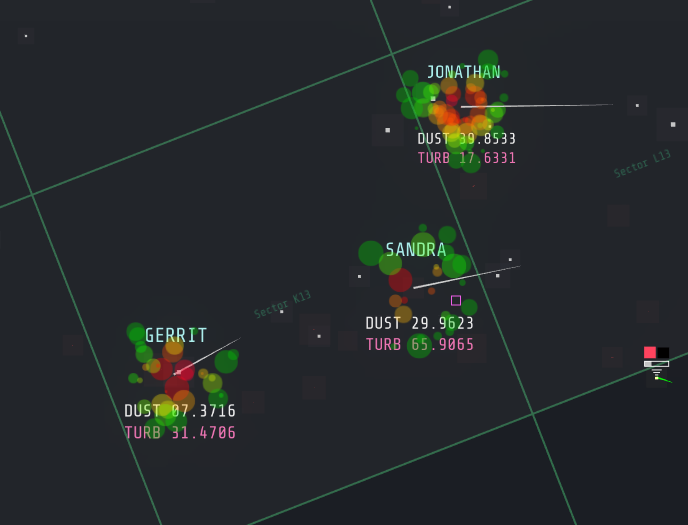 Stars
Large burning balls of energy which fill space: often surrounded by planets, rockets, and creatures.
Some have their own weather stations.
Red Zone: This is the closest you can get to the star if moving at high speeds. If you enter that region, you risk burning up in the star's heliopause.
Green Zone: If you go into the green zone, you'll enter that solar system.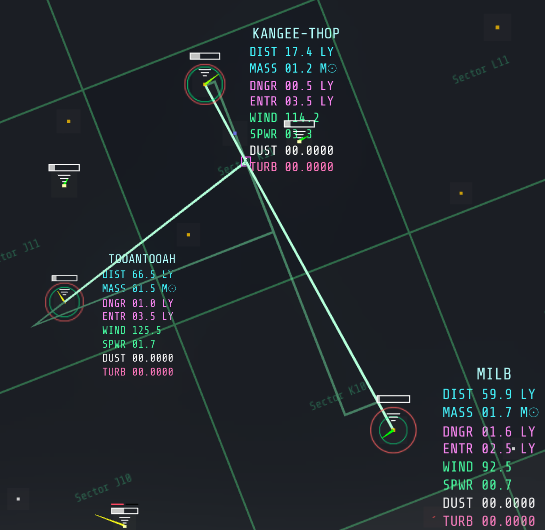 1080p Video Footage