Greetings Gamers!
It has been a while since the last Nauticalith devlog and there is plenty of good news to update you all on.
First and foremost, Nauticalith recently got accepted into Boston Festival of Indie Games on September 15th 2015 at MIT in Boston! We are very excited to be accepted and are bringing the whole team along to show off Nauticalith. Tickets are available online at their website (linked above) and we would really appreciate any fans showing up who want to check out Nauticalith.
As far as progress, we have spent a large amount of time recently polishing Nauticalith. We took the necessary time to build the game menus to ensure that all users can customize their game play to cater to their machine or individual preference. Pictured below are some of the in game menus that allow players to adjust video and audio settings to their liking.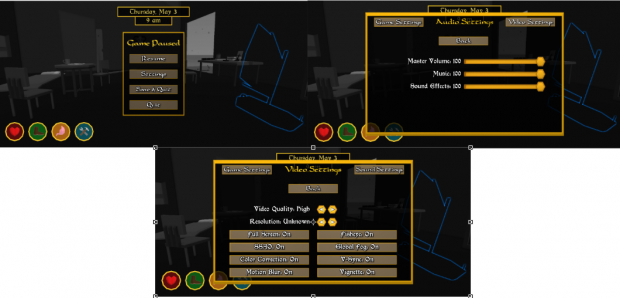 Other than the new Game menus, there have been some new features added into Nauticalith. One exciting new feature is Highlighting. We noticed through play testing that sometimes players would explore an island only to lose their boat by the time they finished exploring the island. This was a bit tricky because we wanted people to explore the larger islands but not be afraid of not being able to find their boat at the end. The solution we came up with was to highlight the boat in blue when it is out of sight. Now, if you are in a cave and don't know which way you left your boat, you look around until you see the blue outline of the boat. This is illustrated a bit in the above pictures however there is another picture below illustrating this feature. The highlighting worked so well for that, we thought about what else we could use it for. The fishing feature in the game is a lot of fun however because it is a big ocean, the fish are a bit tricky to find. To remedy this, when you have your fishing rod equipped, fish show up with a green glow around them to help players find them easily then the game of trying to catch them begins.
The highlighting feature has been very successful feature that really does improve the quality of life of the player. Aside from menu and quality of life we have been working very hard on implementing more crafting (this system will be talked about more in the next devlog) however today I can show you the beautiful campfire that will assist you in keeping warm at night and cooking/making materials.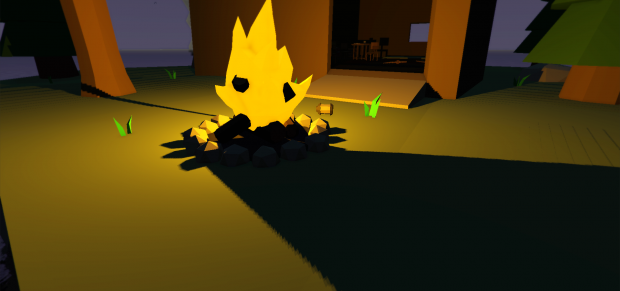 The size of the campfire changes as you kindle it more and this campfire is accompanied by an animation that really brings it alive.
As you can see there is a lot going on in the world of Nauticalith and much much more to come. The main features that are being worked on now involve crafting, merchants, and lots and lots of bug testing before BFIG. Keep updated with Nauticalith by checking out our social media links at the bottom of the page or following me,
-Logan @zStinkLoser