LORE:
ORKMOTH;
It had seemed in 6800IB that the OrkMoth nation had been winning the great war but by 6816IB their success had turned against them. The navy's of Seasalk now targeted OrkMoth as their greatest threat, and their docks were constantly bombarded. The aftermaths were a grim scene. But Seasalk had many defeats to, as they were targeted by many as their biggest threat, because their navy was large, and the only way to reach Seasalk is by sea. Though OrkMoth is one of Abundantia's most economically prosperous nations, from the great their spice trade, meaning they could afford to recruit more powerful armies, though the people of OrkMoth dreaded war. Their emperor, Jupitus Moth, was an intelligent leader, but his tactics never got good results, but when they went well, their enemys took a nasty defeat.
Race;
Small human/gnome-like race which are extremely agile, but very fierce. They look small, weak, maybe even cute, but this is their complete opposite. They diet on mainly meats, which they are used to due to their sharp teeth. Their weaknesses are, being accident-prone (very clumsy), aswell as being inaccurate archers. The race is know for having good sword-based stealthy units in battle.
Religion;
OrkMoth follows a religion similar to Animism. They believe if the punish their enemies well, then they will be made stronger in return, but by their enemies spirits, merging into their own. But they thought that if anyone killed too many, the enemies spirits would take control, and they would turn on their friends. They also believe that by doing more good deeds, they are more popular and important to the spirits.
OrkMoth's Map: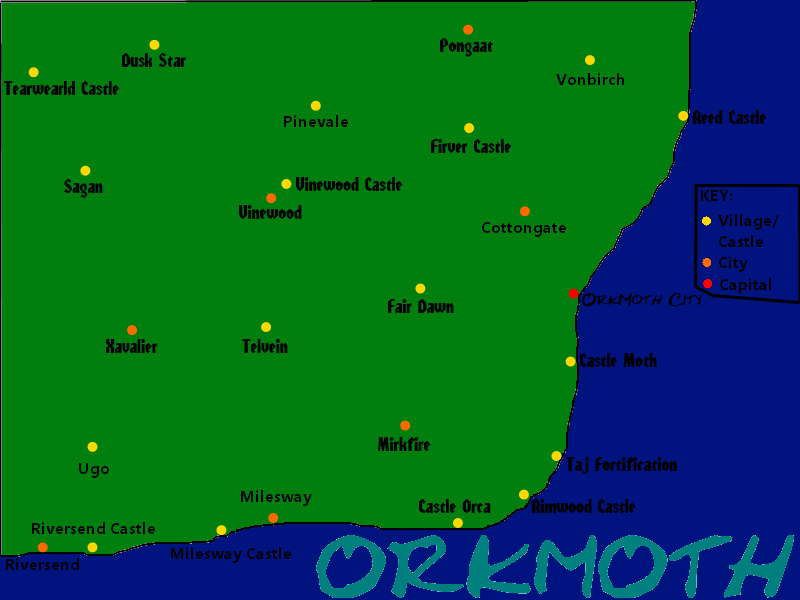 OrkMoth Landscape:
As OrkMoth is the only place the game is based, this point is quite pointless. But there maybe the other nations if I decide to continue this game as a series...