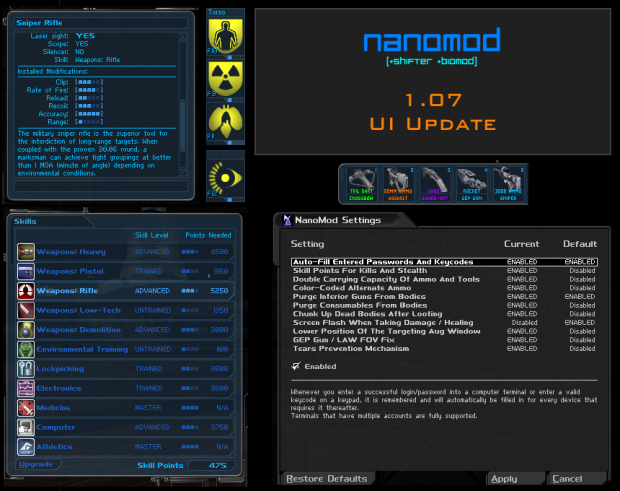 1.0.7 update. This is generally a UI update. Some changes I have been wanting to do for a very long time, but couldn't be bothered with UI code before.

[1.0.7 Changes]
* New setting: Color-Coded Alternate Ammo. This colors alternate ammo loaded in weapons on the belt icons (and a few other places) based on their type.
Credit to CyberP of GMDX for the idea from his own mod, providing initial colors, and sample code. This is off by default.
* Prettified my 'Installed Modifications' section of the Weapon Info display. It now has a very pretty display of icons instead of the lame 3/5 text!Much thanks to CyberP of GMDX for giving me the idea to change my initial code to do this, and for showing me that it can be done!
* The default Light Augmentation now has 3 empty icons on the background to signify that it can have upgrades.
* The Synthetic Heart Augmentation now has no empty icons on the background (yes, in ALL three possible locations *sigh*), as it has no upgrades.
* Skills tab now also has the blank icons for empty levels
* Prettified the shiny new Settings UI. Now even more newier and shinier. Or something.
* Following the GEP Gun FOV Fix, it seems that the LAW is sufferring from the same problem. The fix is now included with the GEP Gun setting.
* And finally, since it's really trivial for me to add new settings now, the 'Auto-Fill Entered Passwords And Keycodes' functionality of this mod is now a toggleable setting in the Settings UI. Default is ON, as it's always been enabled.
* When using the Auto-Fill setting, the message on keypads will now display the code used instead of the default GRANTED message, to be in-line with how auto-fill works for computer terminals.