THE BIG NEWS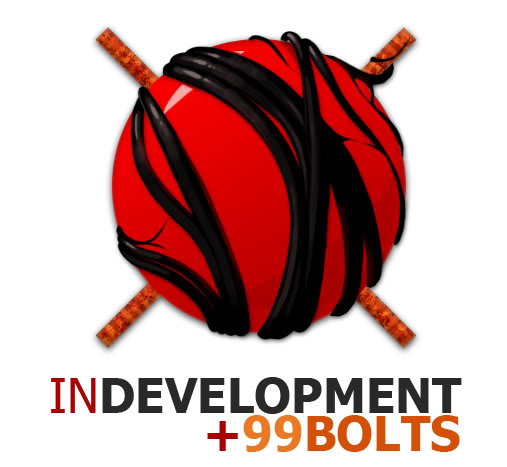 To everyone coming from 99 Bolts, welcome to In Development. And to everyone coming from In Development, welcome to 99 Bolts. These two mods have joined forces in an effort to improve together. In Development sends the player on a mysterious journey through the mind of a game developer. 99 Bolts sends the player through a desolate wasteland on an assassination mission.
Bluefire from In Development will be contributing code work for 99 Bolts, and Joe Rogers from 99 Bolts will be contributing map work for In Development. The mods may or may not be related to each other. We will keep you posted as our plans grow.
We will be releasing joint updates for a while, to see how that goes. Our news posts will show up on both mod's pages. Our goal is to release two excellent, unique mods at the same time. So feel free to explore the website of the mod you are not familiar with, and remember: your feedback is paramount to our success.
This is the Thanksgiving Update for 99 Bolts. The first group of people I want to thank thus far with regard to 99 Bolts is the mod community in general. This not only includes my current watchers, but also the kind folks over at Interlopers and the VDC. Their efforts are paramount to the success of any mod, and mine is no exception. So thanks. As appreciation, here are some screen shots of recent map work.
To be honest, I have been doing a lot of non-mapping work for 99 Bolts as of late...but there's still something new to look at here.
GIVING THANKS TO THE TEAM
Over the course of the last few months, I have somehow acquired three devoted team members. They volunteered their services without any solicitation, and they have all been providing me with their work in a timely manner. I feel really lucky to have them working with me, and I am dedcating this section to their honor.
Vugam - Model Artist
Vugam is currently a college student from Spain. He has been modeling for a little while and has excellent skills. He is particularly good with completing models in a short time span. I met him while working on the Room Escape mod a few months back.
Here's a link to his online portfolio... Victor Bernabeu ...and here are a few models he made for 99 Bolts recently.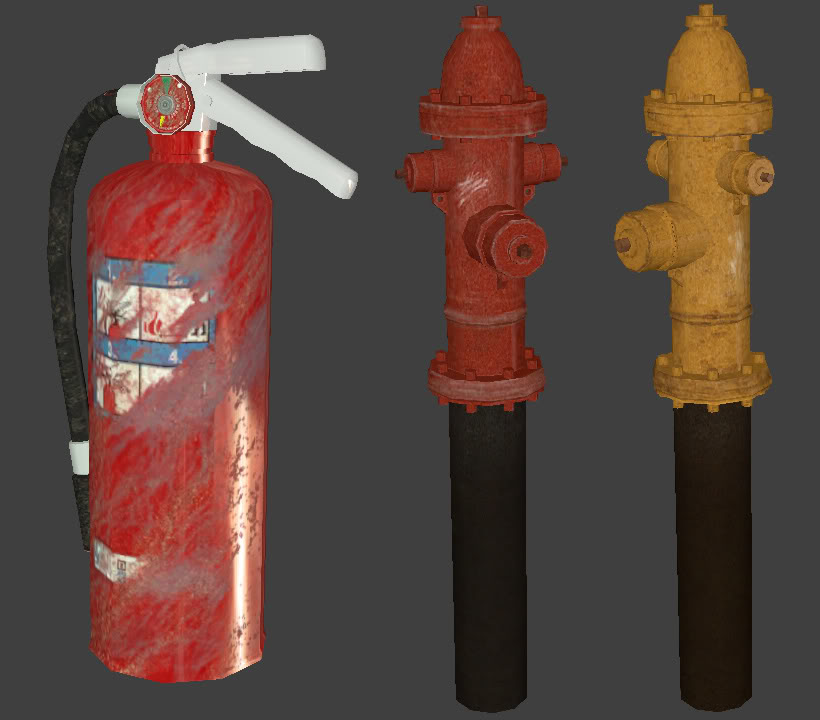 Can anyone tell me why Half-Life 2 never had a stock model of these objects? At any rate, Vugam's models are doing quite nicely.
Bekey - Texture Artist
Bekey is a teenager from Slovenia. When he isn't working on his own mod, Morning Faith, he's attending a computer school. And when he's not doing that, he's creating custom textures on demand for 99 Bolts. Here's some of his recent work.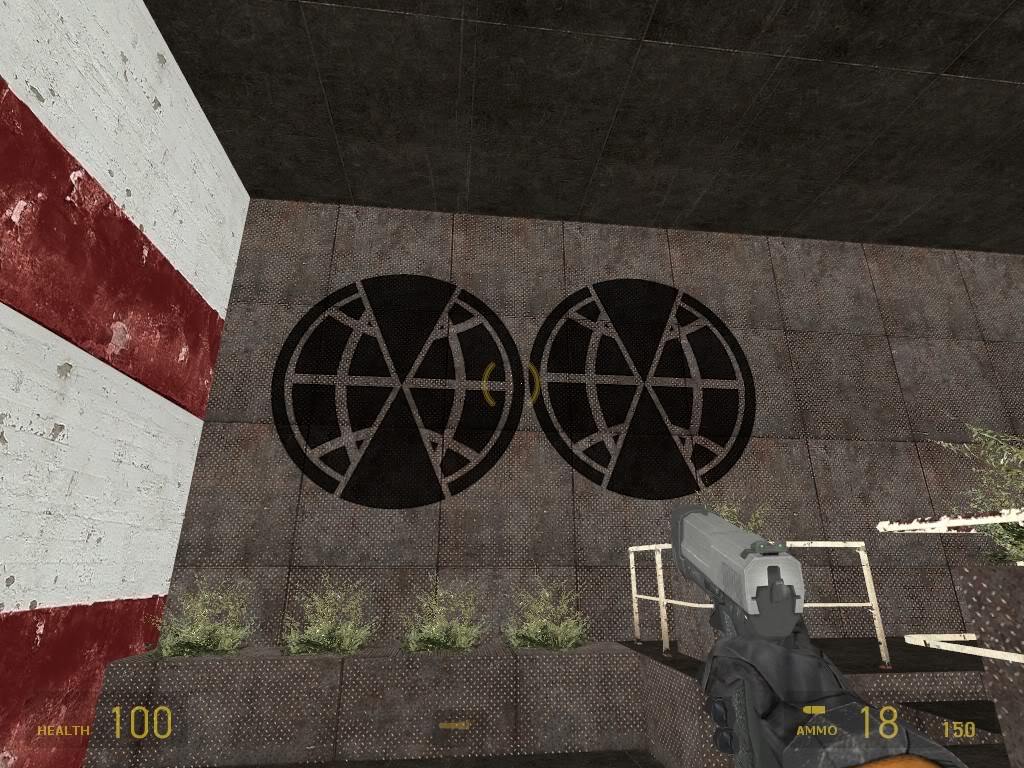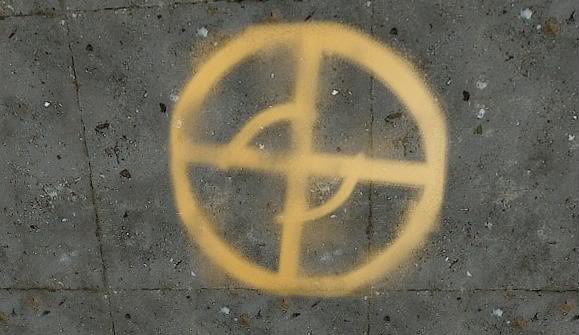 The first image is the official logo of the ITCS. There, that's the story hint from last month, revealed. The second image is going to serve a similar purpose to the spray-painted Lambda logo, revealing caches of resources for the player/assassin as he traverses the wastes.
Bluefire40 - Programmer
So here's the back story to our mods joining forces. One day, Bluefire40 from In Development engaged me a series of conversations about his mod. We talked a lot about the possibilities of ID, the kind of innovations possible. We began discussing contributing work to each other. He offered to help me with the mod directory and introduce code-based visual effects, and I offered to contribute mapping work. Here's an example of his help thus far. He's done something I could never figure out how to do: actually make the mod "work" with custom names, menus, and titles.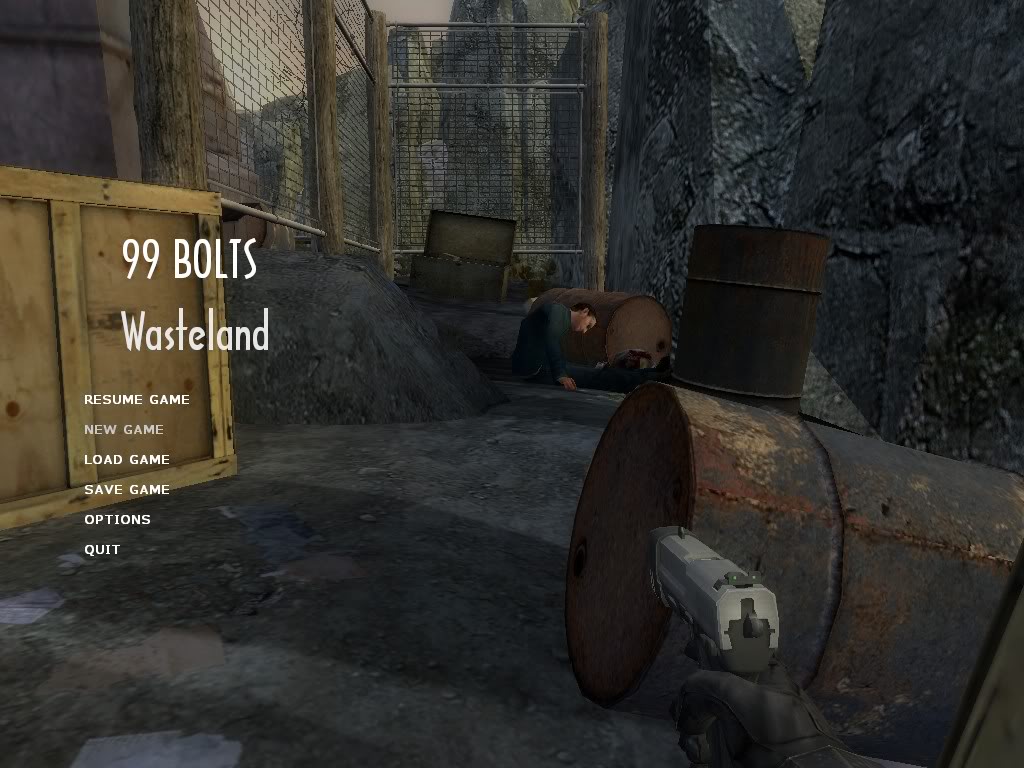 For some reason, I have never been able to find an easy way to do this. Bluefire showed me how to make the mod directory work with great ease. In addition to that, he's going to develop a series of visual effects and perhaps even some brand-new features for 99 Bolts.
One more note - In Development is well-known for having a series of functional, or imminently functional custom weapons. While they are spectacular, they apparently require a lot of work. Bluefire regrets to inform me (and anyone who cares) that he will not be making new weapons for 99 Bolts. He said he has to fucos on making his own weapons perfect. And I respect that. Maybe I can get someone else to join the team and help with weapons one day. But until I know for sure, I'm sticking to my original plan - no custom weapons in 99 Bolts.
In Development is coming along great as well. The demo level is going to contain about the whole first chapter now, thanks to Ben (Joe Rogers) mapping the second half of it. He's going to be working with our other mappers to make another area for the demo, as well as many other levels in the full mod.
Unfortunately, that means that some of the weapons I showed earlier won't be playable in the demo. I'll introduce a brand new Debug weapon in the demo to make up for this. This Debug weapon was already planned for the first chapter, so it's not changing anything major.
Also, we got a few animations taken care of. I pestered our animator for a quick video, and he sent this my way.
Most of the team, including myself, have been caught up with course work, but now that the Thanksgiving break has hit we're going to get right back to work. During some of my free time in between papers, I managed to do a little bit of coding and finished the final tweaks to the demo weapons, as well as added a new Brush entity that changes your movement. Exactly how it changes is one of those things I'd rather not show just yet, since it's not perfect. Still, it's one the main features in ID, so I'm glad I got a somewhat functioning version running.
Well guys, that's it for our joint update this month. We'll see how this method turns out and get back to you with another joint update soon.