Hello guys and aliens alike!
It's been a while without great news from us. Truth is, we were really busy over the past few weeks. That being said, we're still working on our mods, especially on Stargate Space Conflict. However, today we have different things to promote. The first major feature is about "My Phoenix", a brand new application, made by our coders, which will reunite both mods into one single application.
On the other hand, we will talk about the development of our mods, including Battlestar Galactica Fleet Commander, which is still being developed by our team.
---
My Phoenix App
My Phoenix is an application for Windows (XP, Vista, Seven, 8, 8.1) and Mac OSX (Including Yosemite) which enables our fans to play, update and download our mods. While having separated launchers was somehow really immersive, it was problematic, mostly because both fans we have aim to play all of our mods. Truth is, we believed that separated launchers was by far unproductive and messy.
Now, with our application, our fans will be able to have the latest versions and receive small updates (new maps, for example). In other words, the application is definitely the best way for you to play what we did.
Make sure to click on the following pictures to view them in HD (1200x650)
Mass Effect Reborn version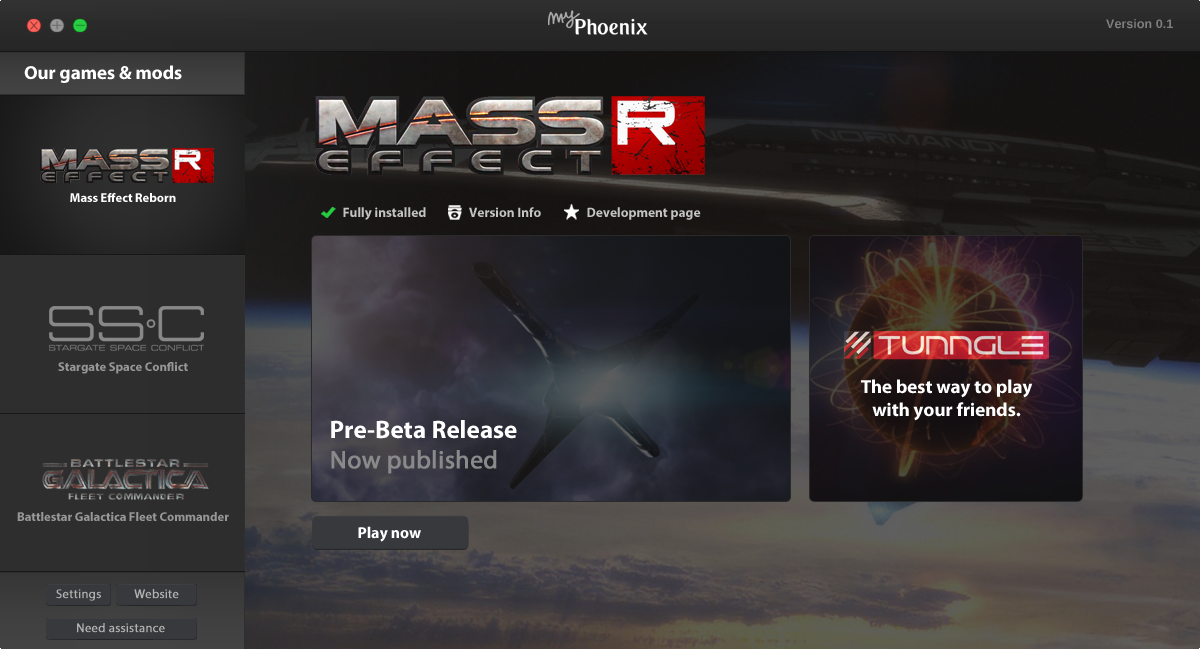 Stargate Space Conflict version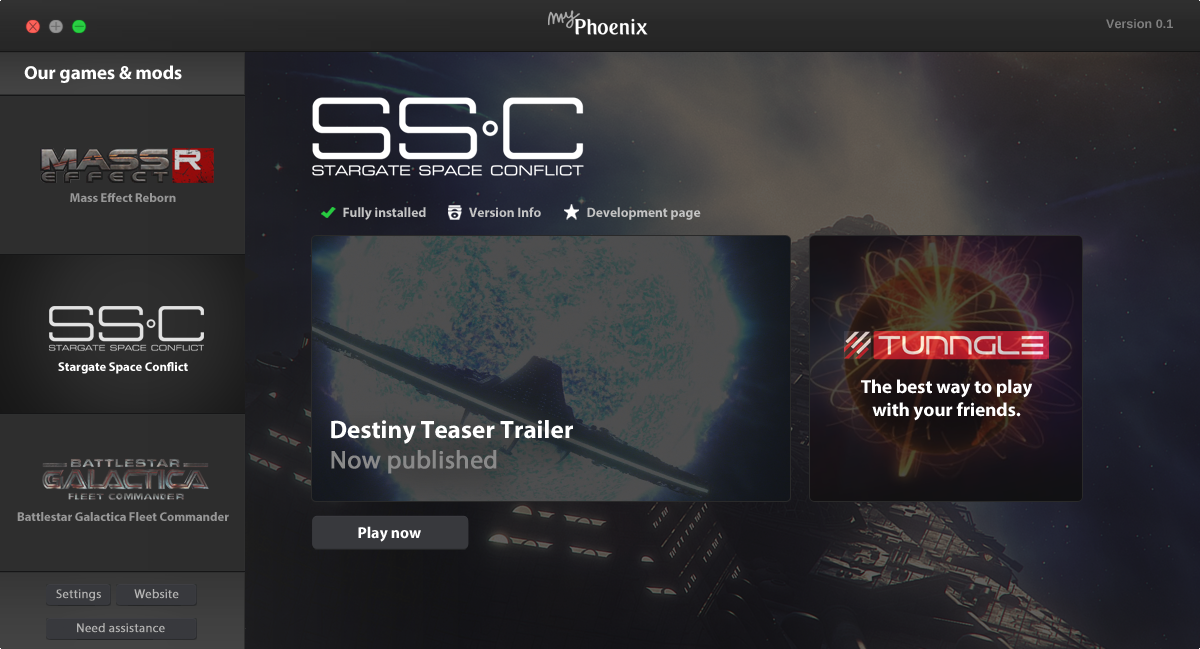 Battlestar Galactica Fleet Commander version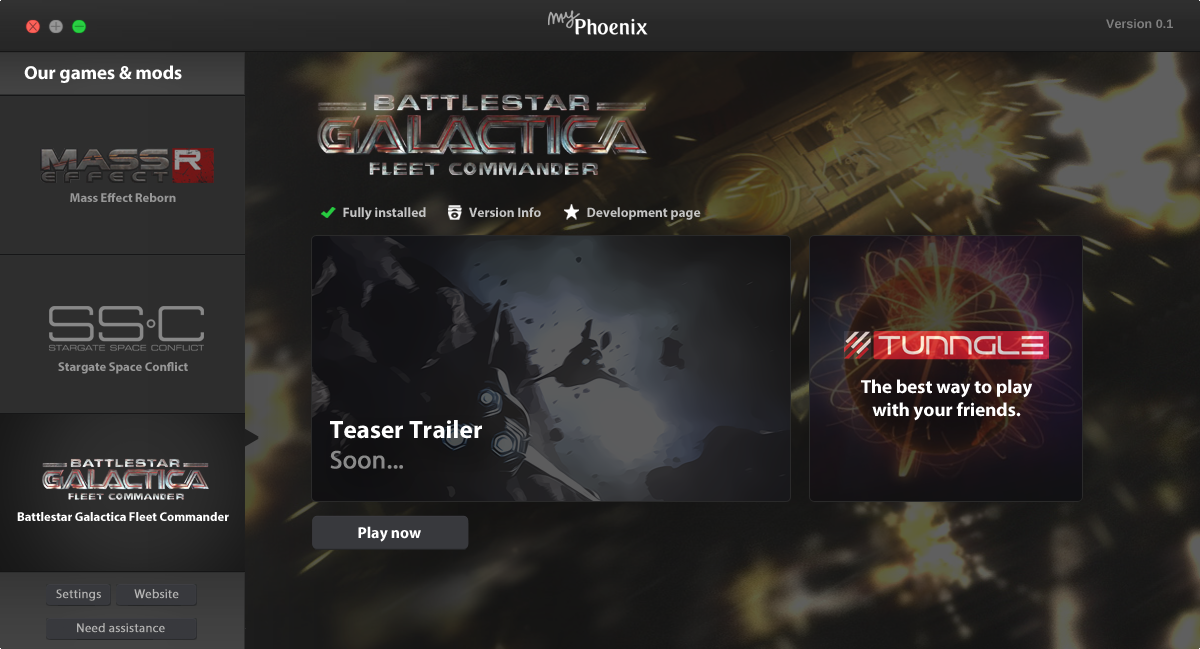 As you can see, we tried to design something really modern, something that fits to our artistic guideline. The result is visually great and powerful. The user experience becomes more than simple as well, which is really great for our fans.
---
Stargate Space Conflict mod news
Stargate Space Conflict is our highest priority, and we are still working on it. Truth is that we rather develop our shield system actually, which is something that must be finished. We can't tease our shield system because we do not want to promote an unfinished feature. What you need to know is that our brightest coder is working on the shield system, and it's almost finished. The problem is that we can't improve our modification without the shield system, as it affects the whole gameplay. For example, if we enhance the damages done by the Asgard beam, the shield system will surely remove it. Basically, we mean that we don't want to improve the gameplay without the final shield system.
About the visuals, we plan to design as soon as possible a Stargate interface and finish the planets, which won't be that difficult. As I said previously, our only concern is the shield system... The sooner we finish the shield system, the better. We really want anyway to release our mod at the end of the year but as we said previously we are invited at Art-To-Play E3 to present our respective mods to more than 10.000 of people. This exciting event is really important for us, and we want to be prepared.
Mass Effect Reborn & Battlestar Galactica Fleet Commander mod news
As we said previously, one of our coders, called Pascal, has almost finished the research tree. We plan to publish a news about it as soon as possible to have your feedback. We want to create something that fits to our community, and it's a safe bet you'll approve it. Mass Effect Reborn will be updated at the end of the year or at least at the beginning of 2015. Therefore, stay tuned guys.
Same thing for Battlestar Galactica : Fleet Commander. The only thing you need to know is that we plan, at least, to release an unfinished version at the end of the year or in January. This won't be something really finished, mostly because only a few ships were re-modeled and re-textured in high definition, but you will enjoy it, there's no doubt.
PS: The last thing I will say is that I joined personally DBolical (the group behind ModDB, IndieDB & SlideDB) last June as a Website Editor. Therefore, I'm may not be able to publish the same amount of pictures, news and stuff. In that sense, you may notice that other people from Phoenix Interactive will do it. They are of course able to help you if you have any questions or ideas.
Thanks for reading.
Thibault "Erayser" Testart.