The truth is that Modern Warfare 2 is a truly epic war experience that builds upon one of this generation's greatest formulas. Is it better than the original? It's debatable, but if you're a fan of war games, or games in general – you're going to want to buy Modern Warfare 2; but you already knew that.If you've played the original Call of Duty: Modern Warfare (and really – who hasn't), you'll feel right at home with the sequel. Taking place five years after the conclusion of the first game, Modern Warfare 2's plot builds on real world fears – and runs wild with them. After a US Army Ranger working undercover to take down the Ultranationalists is found and executed during a brutal terrorist attack on a Russian Airport (which takes place in a level that is sure to draw controversy), the nation begins to cry foul. Alarmed, the Russians decide that action must be taken against the states, and begin to invade the East Coast. What follows is a war tale born of fears, conspiracy theories and headlines themselves. There are moments that will make you think about the world we live in, but there are also moments where you're going to be scratching your head at just how absurd the story gets."...most of these events happen in jaw-droppingly awesome sequences..."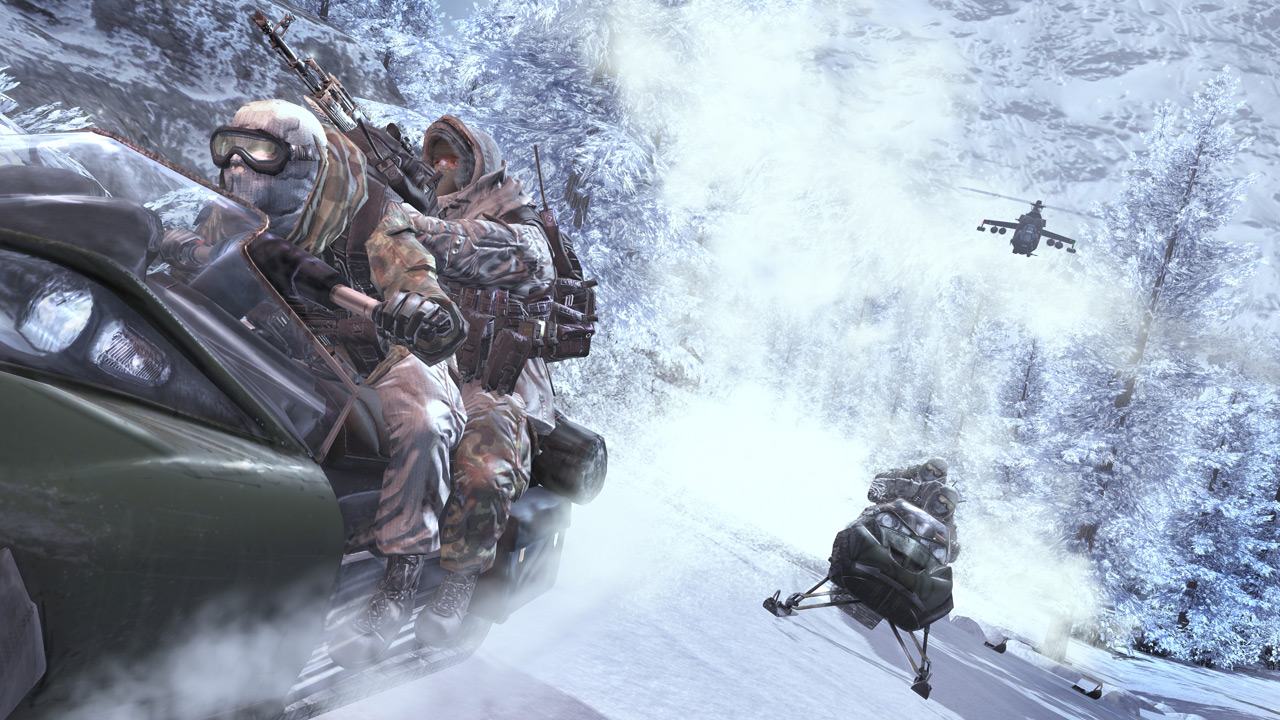 If you've been paying attention to the teaser trailers and hype surrounding Modern Warfare 2's release, you know that there's some pretty haunting imagery contained in the game. I must warn you though - -burning monuments are just the beginning. That disturbing content disclaimer in the beginning of the game is in fact there for a reason. One must wonder though – how much is too much? It does seem, especially in the latter half of the game that Infinity Ward is just trying to top itself and the original game. Some things work and some fall flat on their proverbial face. The fact that most of these events happen in jaw-droppingly awesome sequences does make up for it though.The genius of Modern Warfare 2's campaign is its pacing. Sure, it has its fair share of over the top moments, but like a great war movie, these moments come at you with no apologies and make you feel like you're in the middle of the conflict. The campaign itself will take most about five to six hours to complete, but thanks to the breakneck pacing – it's highly unlikely you're going to feel like it was too short. I never once felt like the game was moving too slow, nor did I feel rushed. The whole thing in fact, is a bit exhausting.Immediately upon finishing Modern Warfare 2's campaign – I felt compelled to play the original. Doing so you can't help but notice just how far the engine has come in recent years. Textures are crisper and the details are far more impressive but what really stands out is just how great the engine performs. There's a lot going on in most scenes and to the game's credit there's very little lag – even in the most frantic scenes.Of course, Modern Warfare 2's campaign is a mere fraction of the game's total package. Call of Duty 4's multiplayer suite is the stuff of legend and gamers have been frothing at the mouth since the game's announcement and thankfully they won't be disappointed. Somehow, the multiplayer modes of Modern Warfare 2 seem new and refreshing, but at the same time it also feels familiar and comfortable.What sets Modern Warfare 2's online play apart from its competitor's is it's incredibly deep customizations factor. Thanks to selectable killstreak options (along with death-streak), and several visual options – it's highly unlikely that two players will have the same exact experiences. Rewarding in-game accomplishments with the ability to customize your character's looks and abilities is a great way to encourage replay and range from the expected; like the combat reward which allows players to use melee attacks from a further distance to the absurdly awesome; like the tactical nuke which is the reward for killing 25 other players without dying. Yes, you read that right…a tactical nuke"...you're going to get shot…a lot."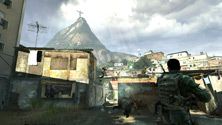 The other half of Modern Warfare 2's multiplayer suite is the highly talked about Special Ops mode. This mode is designed to add to the game's length and appease those who just want to get into an online match without the hubbub. Though the missions take place in locales found in the main campaign, they are completely separate. Most missions in Special Ops are quick with very set objectives and can be played solo, locally or online. The mode feels fun, but you'll be left looking for more customization options. Hopefully we'll get more content for Special Ops in future updates.While Modern Warfare 2's online suite feeling so much like its predecessor is definitely a good thing – it can be negative as well. To this day, the original Modern Warfare is one of the most popular online games; which means you're going to get shot…a lot. No matter how good you get, there will always be someone better, which can be quite intimidating for players trying to get into a game for the first time. The developers addressed it a bit with the new death-streak which literally rewards sucking, but there's definitely a steep curve and you'll have to invest a lot of time to truly become a formidable opponent.The Call of Duty games, especially those developed by Infinity Ward have become a cultural phenomenon and Modern Warfare 2 is a great addition to the lineup. Sure it's over the top at times and doesn't stray far from the course but there's no denying that it's a fun action title with remarkably high production values. Lock and load soldiers. You have a new addiction.