No início tudo era Chaos, uma energia mística ilimitada que tinha o conhecimento de todas as coisas. Como Chaos queria mudanças dividiu sua energia em duas e as chamou a energia branca de Rigno e a energia negra de Caratak. Rigno e Caratak não gostaram do que tinham recebido e se desentenderam. Esse desentendimento causou uma grande explosão de energia que deram origem a três mundos.
Mundo Físico
Origem: No centro da explosão partes das energias de Rigno e Caratak entraram em conflito. Quando encontraram o equilíbrio essas energias passaram a dar forma ao Mundo Físico. É o mundo onde os seres estão presos as suas formas físicas e ao ambiente onde vivem. Estrelas iluminam o caminho e é um mundo que pode ser visto, sentido e compreendido. Um planeta passou a receber atenção especial de Rigno e Caratak, e ali muita vida brotou e criaturas diferentes surgiram.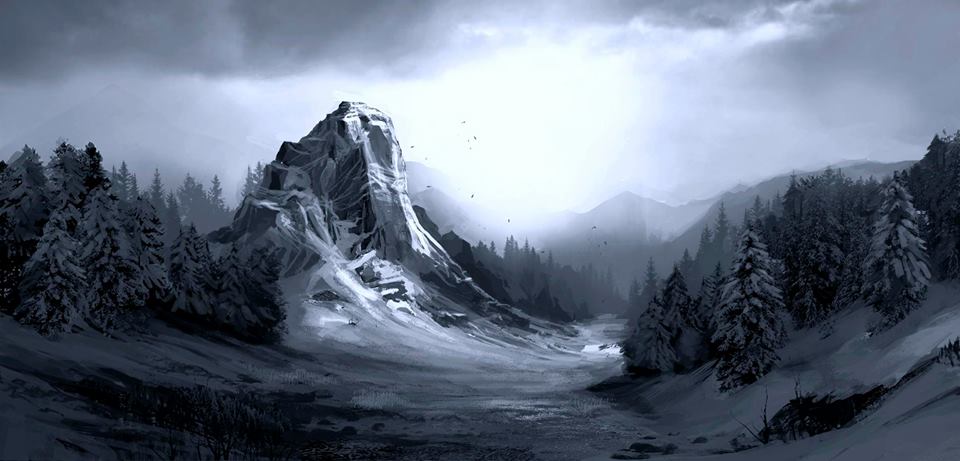 Gameplay: Aqui nosso jogador está no modo de aventura, limitado às físicas do jogo. Ele explora o cenário andando, correndo, pulando e escalando. Acumula e troca recursos, itens, ervas, armas, escudos e armaduras. Conversa com NPCs e trava batalhas freqüentemente. É um mundo que exige muitos cuidados, pois uma grande quantidade de seres hostis aguarda o nosso herói.
Mundo das Almas
Origem: Na explosão, parte da energia de Caratak se acumulou isoladamente, e desse acumulo fez-se um mundo de escuridão. Os seres que habitam esse mundo estão presos às suas emoções e encontram muito amor e sofrimento em seus caminhos. O mundo é escuro e sombrio, e é apenas iluminado pela energia que emana da aura dos seres e almas. Esse mundo ocorre paralelamente ao Mundo Físico, e ambos estão interligados e se interferem mutuamente. Passar de um mundo ao outro é rápido, porém só aqueles que tiveram seus portais abertos podem transitar.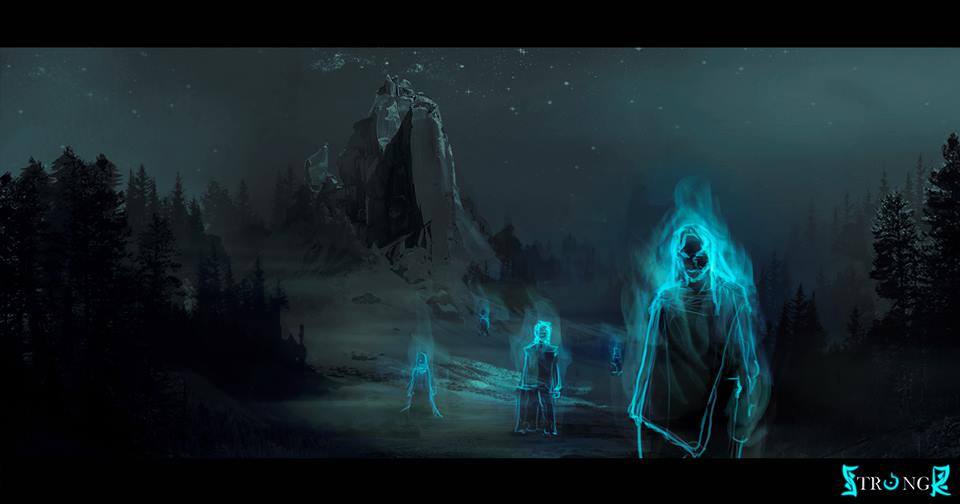 Gameplay: Nosso herói poderá acessar o mundo das almas a qualquer momento que estiver no mundo físico. Nesse mundo, ele poderá invocar feitiços e encantamentos para manipular a emoção de todos os seres. O tempo passa mais devagar e nosso herói usará suas habilidades para identificar e modificar o comportamento dos seres em Gameplay.
Mundo Espiritual
Origem: Grande parte da energia de Rigno foi isolada na explosão, e essa energia foi concentrada e se fez então um mundo de muita luz. É um mundo formatado pelos pensamentos e todos seres que ali vivem tem a missão de buscar a compreensão e o entendimento de todas as coisas. A comunicação é feita pelos pensamentos e eles podem interferir na mente dos seres que vivem no mundo Físico. É um mundo que acontece em outra dimensão e seu acesso é difícil.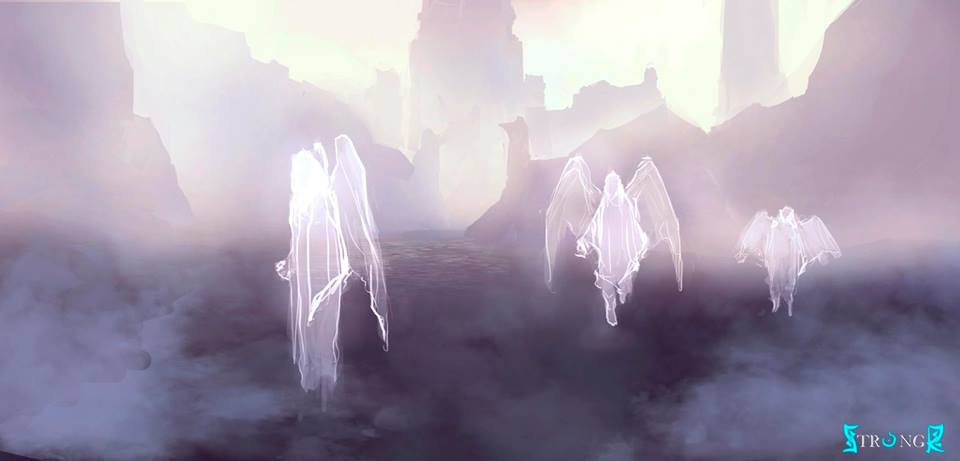 Gameplay: Nesse mundo, nosso jogador receberá muito conhecimento dos seres de luz e passará boa parte dialogando com eles. O nosso herói estará na sua forma espiritual, e não terá limitações físicas pra se movimentar. Ele poderá interferir nos seres que encontrar e grandes batalhas também o aguardam no Mundo Espiritual.
The creation.
In the beginning everything was Chaos, a mystical and unlimited energy that held the knowledge of everything.Because Chaos wanted things to start changing it divided its energy in two and gave them names. The white energy was called Rigno and the black energy was called Caratak. Rigno and Caratak weren't satisfied with what they received and started a fight that caused a great energy explosion which gave birth to three worlds.
Spiritual World
Origin: A great part of Rigno's energy became isolated after the explosion and this energy started becoming more and more concentrated which then created a world of great light. This world is shaped by thoughts and all beings that exist in it have the search of knowledge and the understanding of all things as their main mission, their main purpose. Communication in the Spiritual World is done by thoughts and this communication can interfere in the minds of those that live in the Physical World although its a world that exists in a different dimension and any access to it is extremely difficult.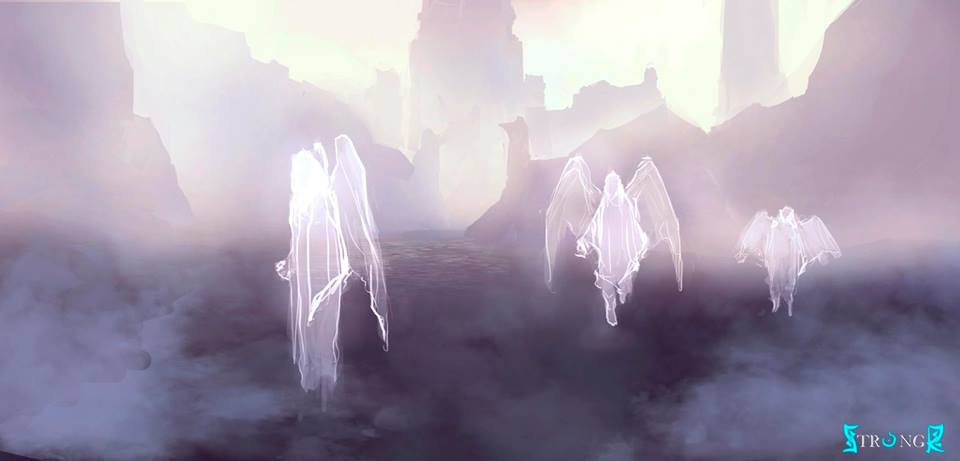 Gameplay: In this world the player will receive knowledge from the beings of light and will spend a good portion of the time talking to them. Our hero will be in a spiritual shape so there won't be any physical limitations when it comes to movements and the player will be able to interfere with the beings faced. That being said, it should be pointed out that our hero will have great battles awaiting for him in this world.
World of Souls
Origin: Much like with Rigno's energy, part of Caratak's energy also became concentrated around itself and from this concentration a world of darkness was born.The beings that live in this world are chained to their emotions and face extreme love and pain throughout their paths. It's a dark world that is only iluminated by the energy that comes from the auras of the beings and souls that live in it. The World of Souls, differently from the Spiritual World, happens in parallel with the Physical World which means that both are connected and interfere with each other in equal measures. It also means that switching from one World to the other is quite fast but only those that had their portal open can do such thing.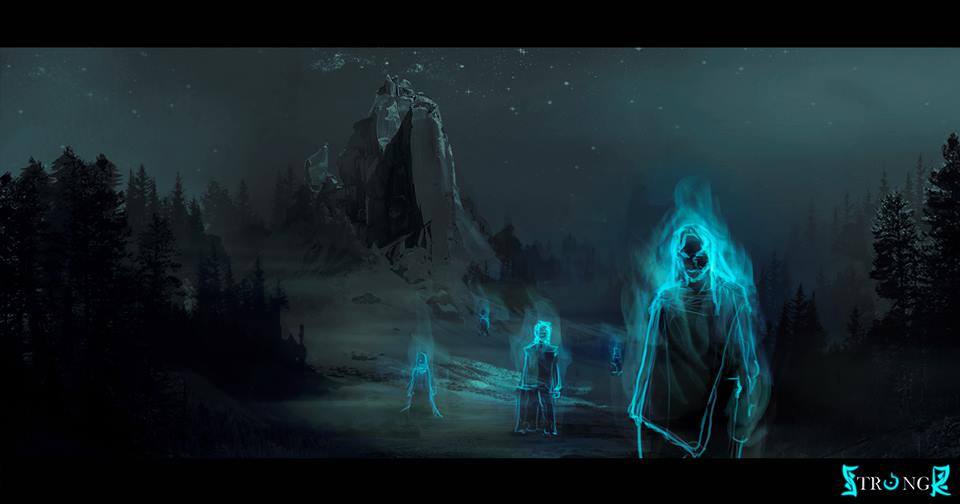 Gameplay: The hero can access this world at any time while he is in the Physical World. In this world he can cast spells and enchantments to manipulate the emotions of other beings. Time moves slower so our hero will be able to use his skills to identify and modify the behavior of other characters in the Gameplay.
Physical World
Origin: Right in he middle of the explosion parts of Rigno's and Caratak's energies were in conflict with each other until ther found a balance and when this happened they mixed and gave birth to the Physical World. Living beings in this world are limited by their physical forms and by the nature surrounding them. Stars illuminate your path and it's a world that can be seen, felt and understood. This world started getting special attention from Rigno and Caratak because of how diverse and numerous were the creatures that came to life in such place.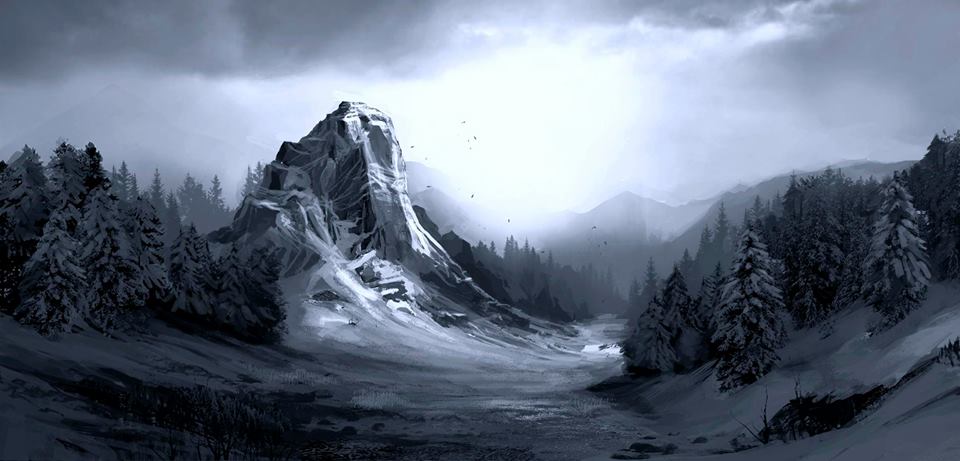 Gameplay: In this world the player will be in Adventure Mode, limited to the physics of the game. In this mode you can explore the scenery by walking, running, jumping, escalating, etc.. You can alsoaccumulate and exchange resources, items, herbs, weapons, shields and armors. Not to mention that talking and battling against NPCs will be quite frequent in this world. However, you'll need to be very careful because a great number of hostile beings are awaiting for our hero.