Welcome to another GOMBIES Update, today's update is more about the Greenlight Games studio and myself Dean, the Founder. A lot has been going on over the last month and I feel it has just settled down enough for me to be able to tell everyone!
Young Startup Talent
So starting from the top, the Young Startup Talent competition held their awards night on Monday, over 50 young entrepreneurs signed up and that was dwindled down to a final 5. Me included! I've been waving the flag for Greenlight Games over the last 4 months and it has finally paid off..
Yup, that's right. I WON! It has to be one of my happiest days to date, the pride this gave myself, family and friends is unbelievable. I was awarded with this awesome little trophy, a framed certificate, a chocolate champagne bottle & a YST pen. Oh, plus the 50K prize that came with it. This brings a lot of sponsors to the table, who're now offering their services to Greenlight Games for one or two years. Services such as..
Training
Accountancy
Printing Services
Website Development
IT Support
Marketing
Public Relations
Plus many more than I'm not going to list for both of our sakes. So that's great news, extremely happy to have won it and looking forward to meeting all the Sponsors and working with them in the future! You can read the announcement on the YST Blog here, including details on how to sign up!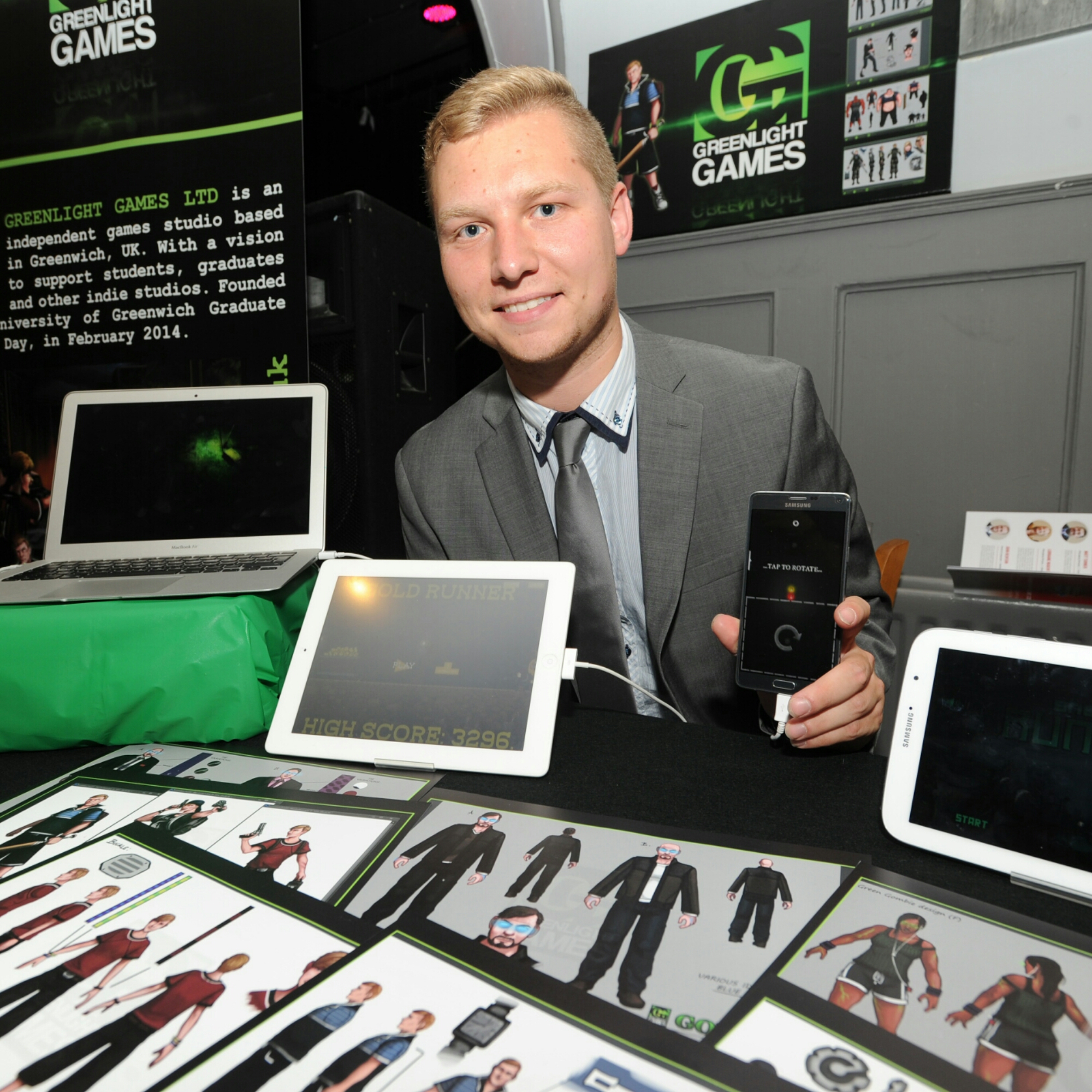 Multi Award Winning
I thought it would be worth listing my qualifications and awards I now have under my belt, for fellow Students, Graduates & Indies to reflect upon.
I have no A-C GCSE's.
BTEC First Diploma in Art & Design
Foundation Degree (fdSC) in Computer Science (Passed with Merit)
Bachelors Degree (BSc) in Games Design & Development (Passed with High Second Class Honours 2:1)
BCS, The Chartered Institute Award for IT Professional Membership Prize
Young Startup Talent Award Winner (West Kent, 2014-2015)
Mitre Passage
If you've got me on Facebook, you might remember a while ago me talking about GG moving into No.6 Mitre Passage. This was in agreement with the University of Greenwich at the beginning of the year, which they sadly went back on. But amazingly I received a follow-up email earlier this week, stating they might be able to pull it off after all - for 12 months! So we'll see how that goes.
New Games
On the Greenlight Games website, you can view all of our games both released & under development. If you have a look, you'll see two new games have appeared! This is on the 'Our Games' page.
"RETROCORE" & "Prison Payback"
I'm not going into detail on these right now, but they're being developed by two separate teams within GG. You'll notice some new faces on our Team Listing under the 'About Us' page too. But we're not stopping there! We're aiming to partner with a new startup company who're creating an amazing online cloud based platform for Android, IOS & Unity. Things like Multiplayer, Leaderboards, Achievements & In-App Purchases. Not only this, the other Indie Team we hope to join ranks with is still in discussion. In fact a meeting is booked for that tonight!
GOMBIES News
So I'd imagine you're wondering, 'What about GOMBIES?' Well, over the last few months we've made some good progress. Things like getting our main charactered modeled, animated & in game! With a basic GOMBIE also modeled, animated and in game with basic AI! We have basic player controls plus have been working with the networking side of things and now have some basic network synchronising! We're being quiet about GOMBIES right now on purpose, we're pushing towards an Alpha Demo harder than ever and our next update will be all about that.
We've also taken on two new members to the team, John Velgus & Spencer Havens. They're working tirelessly on the GOMBIES Story, Game Mechanics and other stuff to make the game more fun, interesting and understandable. But all hush hush for now!
As always, Thank you!
OK, I think that's all for today's update! But as always I want to thank you for taking the time out to read my ramblings! Don't forget you can subscribe via email on our website (Thank you to our new subscribers!) You'll get an email everyday at 3PM showing you our latest posts. No spam, just good content! You can like us on Facebook, follow us on Twitter & subscribe on YouTube! I hope to speak with you all soon, please feel free to get in touch or comment bellow! We don't bite, honest. I'll leave you with a video from the YST Compeition, it's half hour long! I'm at the end though, if you wish to skip. This was a 40 minute presentation, cut down to 4. Youtube.com
Click here to view this post on the Greenlight Games website.