We have an important announcement to make. On Sunday, 4th of November, 2012, we reached the moment we have longed for years. On that day, at 17.30 UTC we had over ten thousand concurrent players online on all MTASA servers around the world. That was more than the number of players combined playing GTA4 and EFLC on Steam at the time, or other hit titles such as Call of Duty: Black Ops or Total War: Shogun 2 (according to Steam Stats).
This shows, that after all these years there is still a lot of interest in the older GTA games, especially the will to play them online with friends.
This also shows that you guys appreciate what we do, and that makes us very happy! The current record is 11128 concurrent players, set on 22nd December, so there is still room to improve.
We have made some progress towards the next release during these few months. Here is the list of changes made by our developers and contributors since 1.3.1:
- Integrated GTA:SA downgrader into MTA:SA installer and added support for the downgrader for few more GTA:SA versions (including GamersGate v1.01)
- Added vehicle component movement functions ( Code.google.com )
- Fixes for client and server crashes (including crashes related with setFarClipDistance() function, server closing, onResourceStop() and onClientColShapeHit events, and more)
- Added a fix for dark cars
- Fixed excessive CPU usage when the player is in a vehicle and the camera is pointing down
- Engineless NRG-500 Variant should be fixed properly this time
- Updated http download manager in the MTA:SA client
- Added heat haze setting
- Added readable depth buffer for shaders to access ( Wiki.multitheftauto.com )
- Added getPlayerOxygenLevel, setPlayerOxygenLevel, engineGetModelLODDistance functions
- Conformed client console log date format to ISO 8601
- Applied patches made by community members - Kenix (volk-rus) , Jusonex, [GP_A]XetaQuake, rafalh
- Included a new code signing certificate
- Introduced a new account passwords hashing algorithm and added a sha256() hashing function
More detailed list: Code.google.com
Additionally, a new resource was added to the resource pack: an Ingame Performance Browser. There were a handful of fixes and updates to to other resources too.
Code.google.com r875+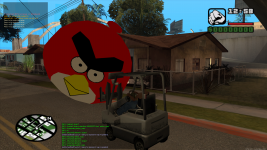 That is all for now! Enjoy your Winter break.