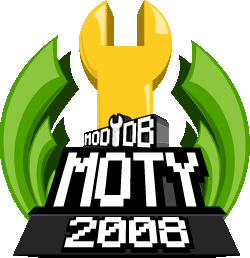 Today is the day when... when what? Well, my coder MacX nearly finished the Questlog you'll find in the media section. Some bugfixes are left to do but it works fine and it'll be a big help for the player to not get lost. The way it works is simple: you accept a quest and therefore a text shows up in the questlog with a short description what to to. After you've done it a check mark will appear meaning the quest is done. Red ones are quests you need to solve to go on with the story and the game itself, the other ones are just sidequests to get more money or to gain experience (RPG System, work in progress).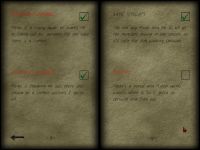 Now a little PR, the search for the MOTY 2008 has begun since a few hours/days. Well I'm not kinda like Desolated is the best mod ever being developed or such, but it'd be nice if you give us one of your votes. It's not about battle or being the best, just kind of a feedback that you believe in this mod and you'd like to play it. We don't need the first place, or place ten, whatever. The thing you gave your vote is enough for us, the thought counts. So...
That's basicly all for now to mention. Wish there would be more, but my coder Cameron haven't answered yet with what he is/was working on, a new ability/spell for the player. To give a hint: this ability has something to do with time. If that is not obvious, I dunno either... Oh, before I forget, there's a single bad news: I was working on the last part of painfull death 2 (not a spelling mistake with the double "l") but it didn't worked, got an error cause the map is too big. Finally I made it but then Doom 3 shredded the file... But life gotta go on, therefore I could announce a new map planned replacing facility2:
THEY. I don't wanna say that much, the map replaces facility2 and it's kind of a new map for Doom 3. The setting is a part of a big city in which the monsters have overtaken the streets and it's nearly impossible to kill em al to get through, so you need to find a way around; stealth. More I'm gonna tell, if there's something showable of the map but till then stay tuned.
Dave