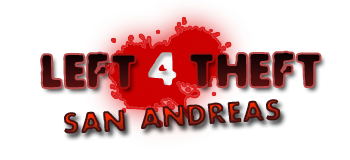 I don't know how, but it happened. Left 4 Theft is in the top 100 mods of this year's MOTY Awards. Thank you all for voting, without you the mod wouldn't have a chance.

Top 100
First of all, thank you all for voting for Left 4 Theft! Now L4T is in the top 100 I would like to ask you to vote one more time for Left 4 Theft. Perhaps we could make it to the top 10 if the mod gets enough votes! Anyway, you can vote by pressing the green button on the mod's page right here or follow this link and look under San Andreas. Then click on vote beside Left 4 Theft. Thanks in advance!
Mission Pack #2
Some are asking when the second mission pack will be released. That's a good question. I have been busy at college the last few days and haven't been very well. I hope to find some time in the next few days to continue working on the missions again and perhaps release it next week. While you guys are waiting you could prepare yourselves by joining the Scavengers so you can start right away when the MP is released. The Scavengers can be joined by completing the two Scavenger missions in the villages north of Los Santos.
Future
So what will happen when the second mission pack is released? I plan on start working on the third mission pack, that will probably be the Army or Bandit mission pack with new missions for the Army or Bandit faction. I also might start working on version 4.0 by that time. We'll see.
Well, that was it for today. Thank you for reading and don't forget to vote for Left 4 Theft!