The more fleshed out a game gets the harder it is to think of what to do next. I will be posting every two weeks now to allow me more time to do other things. Coming home tired from work I tend to sleep all day and I get too little done. These articles will have more content this way.
---
Stream Mode Updates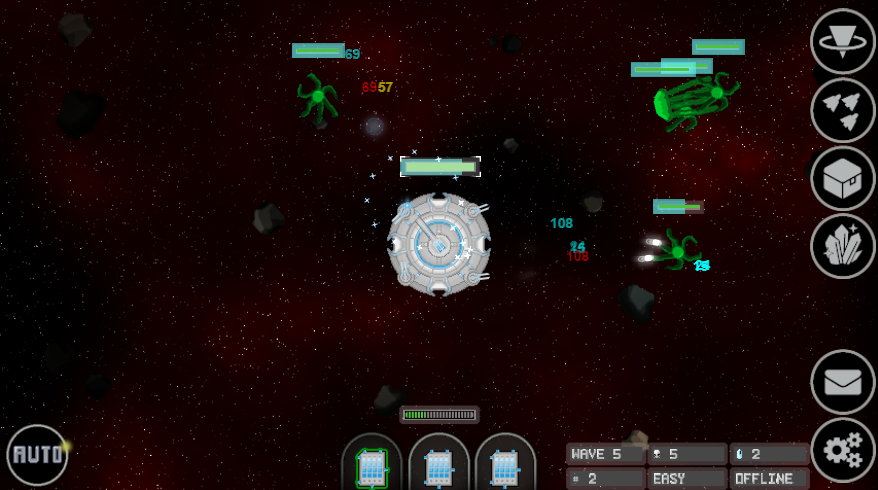 Here is a stream run in progress. You might notice a new set of panels in the bottom right. These panels display useful statistics during your run. The "Wave" Panel displays what wave you are on. The next panel tells you how many enemies are left in the wave. The third panel will display your minerals you have earned during this stage. These panels display information that constantly changes during a level.
The last three panels are the number of jumps you have made, current difficulty of the game, and number of participating viewers. The difficulty has a chance to raise, lower, or stay the same depending on where you choose to jump. Higher difficulties yield more minerals and have a higher chance to spawn a rare mob or run into a boss. The last panel shows the number of viewers participating in-game. Viewers who are watching your stream but are not participating will be unable to gain rewards. If you are not using stream options this panel will display "offline". The panels are minimal but they do not match the rest of the ui very well so I may have to work on them or have Lenny touch them up.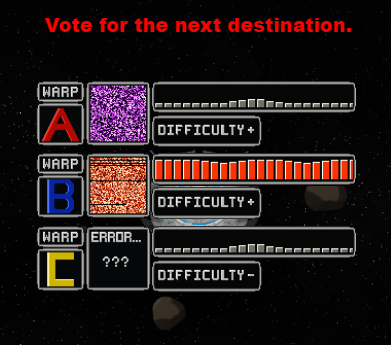 Every stage you pass you get a screen like this. You can vote for the next level by clicking one of the choices that appear. If you do not pick one within the vote time the level will be chosen automatically (or by most votes).

This shows what sector the selected stage will be. Grey is a neutral sector, blue is friendly, purple is hostile, and red is a boss zone. An error is a random sector. I will explain these differences in another article.

This meter shows how many enemies will be in the next stage. Low, Medium, High, Extreme, and unknown. Try to avoid the high amounts of enemies unless you are confident that your ship can take them.

Lastly we have the bonus. Bonus's will apply a change to the next stage. Difficulty bonus's will permanently change the difficulty for the stream run while other bonus's (not shown) will provide a benefit (or deficit) for only one stage.
---
Conclusion
Stream mode is looking better every day and I get more motivation with every feature I add. Stay tuned as I add more features to the game. If you are interested in playing the game feel free to sign up at Mach V Gaming . We will send an email to those who are interested in playing an early test version.
~ Andrew Barontini - Lead Game Developer - Mach V Gaming
Twitter - @Healstation

Discord - Mach V