Q: Most important part of game development?
A: The story? The gameplay? The art? People behind it? - It is the community behind that game! So it is Y-O-U.
All those who have followed us, will know that we have launched on Kickstarter, but canceled it. The reason is quite easy: We rushed into something.
Our next plan is to generate a fan-base: Write more news, be more active on Twitter and Facebook. We are really excited about Snot and we hope you will be excited about that, too!
Now we are speaking about our plan for the close future:
We are working on a trailer for Snot and post more news on our social networks. (If you like to see some pictures, you should follow us on Twitter! If you like to read news, you should like us on Facebook and watch our project here!)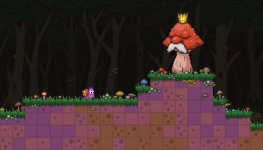 World 2 - Shroom Forest: Snot is meeting King Fungus II!
Do you have questions? Or do you want to know anything more about the game? We will make an article about it.
The next news will be about some more game-related stuff! So stay tuned an don't forget to follow/like and/or watch us! :-)