So, the purpose of the update was to introduce new content: Rooms and also new game mechanics. This was also to be a thorough test of the automatic patching system (only Full version).
[ppbranchg12469button]
Ohhh, patching is such a pain! Just so many things that can go wrong I realized while testing. What if the user cancels in the middle of the patching, or if the connection goes down? So we will see how it goes... You can always redownload the Setup of course if anything goes wrong. Also I think Desura will handle the patching for you if you got it from there.
But enough of that, here is the official changelog:
Possible to undo moves
Automatic performance suggestions
New "rotator" floor type
More rooms
Changed chapter and rank requirements
Bug fixes
Btw, this is a FREE content update!
What does it look like?
Undo and the new "Rotator" floor type that will cause all ramps and arrow tiles to turn around in action: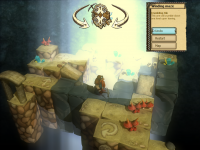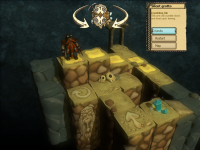 What's next?
Some might argue that the replay value is kind of low for this type of game. There is really no reason to solve a room more than once after all. But what if there were new puzzles all the time? The next update will hopefully feature an Editor and the ability to share your creations online. Will have to finetune the current Editor I use myself, it has a lot of "rough edges" but should be possible. Will be a little harder to code the server side things, saving, publishing, displaying, search forms etc. Good thing I can use regular HTML for everything since I use the Awesomium library (basically a wrapped Chrome browser within the game) for most of the UI.
If you wanna see how I create rooms with the current "rough" editor it looks something like this: