You know about the basics of choosing your weapons, but we haven't yet elaborated on some of the more specific features of them. To celebrate the activation of a new weapon in the Pre-Alpha Preview, we've decided to elaborate on some weapons and weapon-types that will be available later!

Jump Tanks has a standard aim style that uses the crosshair, allowing the player to aim wherever they want to fire. Some guns also use "Aim Assist" on the vertical axis, which allows the player to focus more on maneuvering quickly while firing. Further, there are also guns that have a tighter view that is used for "sniper" style weapons, such as Rail Guns etc... These allow for higher accuracy over long distances but with a trade off in awareness around the player.
The final aiming style is "Launched". The type of weapon that uses this aiming style will make things explode. Launched weapons paint a target on the ground that the player can aim. When the player fires their weapon, it will lob the projectile in an arc towards the target. This system allows players to attack while hiding behind cover, but the trade off is in the speed the projectile reaches the target.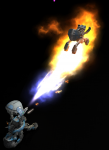 This week, players in the Pre-Alpha Preview will be able to test out the flamethrower! So, if you are interested in getting in on some early tank-crushing, testing out the newest tank tech and having a good time with the MBS Team, go to our Pre-Alpha Preview Sign up page and give us your email! It's the only way to furnish you with a key! As always, if you have comments, suggestions, thoughts, ideas, gripes or grumbles, leave them below for us to read! Thanks for reading and keep on crushin'!