Updates in this Version:
The miner character which was introduced a few weeks ago is now fully rigged and has a lovely pick axe to swing at you.
I have added an additional way to "zone" into a map/respawn. Floating platforms above the individual maps will be unlockable and provide a super fast entry into the zone. You have some control over the pod as it drops, but just enough to barely change the entry point. (Check the video for an example!)
Machetes! You can now wield a machete. It doesn't do a ton of damage, but it allows you to sneak up behind people and silently kill them, or slash like a madman in place and hit everything around you.
Two handed weapons! Finally after what seems like forever, I've added rifle animations so I can create as many 2 handed weapons as I want. The sniper rifle should be coming soon.
New shaders: In my quest to always provide better looking graphics, I'm always testing and building new shaders. Check the picture below for an example. (Believe it or not, these are the same model!)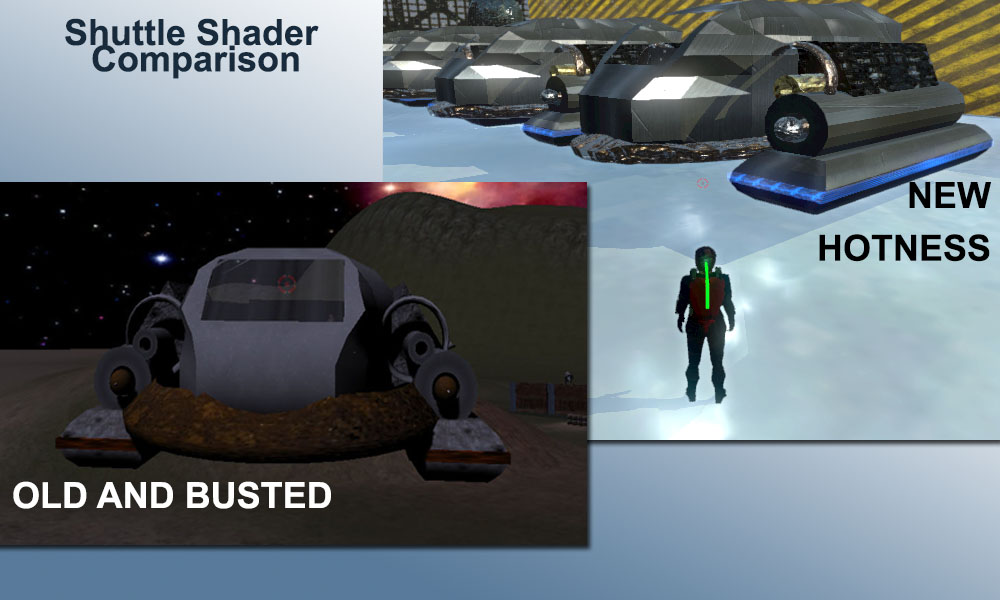 New ground map has been started and a lovely river/water slide to get there. (Ok, I know it seems silly, but its quite fun. Check out the video)
Landmines can now be shot to detonate. This is fun for luring enemies to a location and blowing them up good.
Concrete barricades scattered throughout the play area are real-time destructible. They take a decent beating but will fall apart after too many hits.
More to come!