Some news from World War 2: The Battle For Europe:
Here we have a few new gameplay features to share with you, as well as some models of the American Infantry, British 155m 'Longtom' Artillery, and the Lighthouse doodad.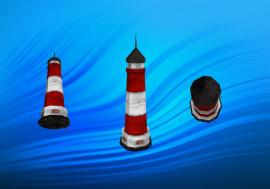 Some new features:
- Truly mixed armies. A mass army of tanks will be decimated by much cheaper anti-tank infantry. And anti-tank infantry will be destroyed easily by regular infantry. And they decimated by Machine Gunners. And machine gunners by tanks. It wont be like in warcraft where you can mass the counter to the enemies army and still lose. You will need to scout the enemy frequently and build counters. Its a giant game of rock, paper, scissors. Just with many extra variables such as artillery, bombers, defensive trenches, and resources.
- Weather effects. Fog limits visibility and disables aircraft. Rain lowers morale of troops and accuracy. Snow does both.
- Morale. Different things can make the morale of your troops raise or lower. The higher your morale, the better your units will perform in combat.
- Take prisoners. If a unit is by himself surrounded by enemies, they will surrender if they get to damaged. If the units owner does not save him within 1 minute, the player that took the prisoner gets vision of his opponents positions for 30 seconds.
- All new resource system. No longer will workers march back and forth from mines that just so happen to be in the area There is only one resource, supplies. This is gained by controlling Victory Locations and building supply depots.
We also currently need many team members. We are looking for:
Modelers (High poly models, good quality, ability to make organic models a plus)
Skinners
Animators
Terrainers
Triggerers (To make abilities and certain aspects of the game, ie. trenches)
Description Writers (Tooltips, In-depth description for website, etc.)
Storyline Artists (Knows how to develop a storyline and characters well)
Cinematics Makers
Coders (to clean up our triggers into code, so we can make it easier for people to create custom maps. Also to compile it into a mod)
2d Graphics Editors (icons, menu screen, minimap covers, etc.)