Happy holidays everyone! As hinted at in our previous post we wanted to showcase a little of what we are working on for our next major update, we are very excited to share what we have planned for what we have titled: The Guns of Nuln update!
Some of you may have already guessed it, but for those who didn't below is the final look at our update logo to go with the newly planned territory of Wissenland and most importantly, Nuln.
The Lore:
Nuln is one of the oldest cities of the empire as well as one of its greatest. The home of Magnus the Pious lies at the confluence of the rivers Aver and Reik. It's universities educate some of the Empire's best and brightest, while its forges churn out armour, arms and war machines to equip the armies of the Emperor and the Elector Counts. The Gunnery School trains the crews of most of the Empire's artillerymen and its engineers research new innovations on a daily basis. The people of Nuln are a proud bunch, hailing from all over the Empire and the known world as well as from Wissenland itself. From the rented lands on the city's outskirts, to the smoggy stacks of its industry and academic spires, the city of Nuln truly is a jewel of Wissenland and the Empire as a whole.
Wissenlanders are a dour folk, known for their devotion to the Gods and stoic attitudes. As a people, they seem to carry the destruction of Solland on their shoulders, even to this day. They are a diversely talented people; farmers scrape their living near the rivers that flow through the land, miners pull stone, silver and iron ore from the mountains, trappers hunt animals with some of the most valued fur in the Empire, and that is without touching on the people of the great cities of Wissenberg, Meissen and Pfieldorf.
To the east lies Averland and Stirland, at times these provinces have been both great allies and dangerous rivals to Wissenland. To the north lies the Reikland, the main trading partner of Wissenland as well as the people most similar to themselves. In the south and west the Grey Mountains provide both riches and danger to the Wissenlanders. Wissenland benefits from the Alimento Tunnel, providing a route for merchants of Tilea and the Empire to safely transport their goods. Wissenland also has close relations with the Dwarfs of the Grey Mountains, trading food and supplies with Karak Norn, Karak Ziflin, Karak Izor and Karak Hirn for armaments and dwarfen crafts. Despite these great opportunities, the Grey mountains are known to be infested with Greenskins, cursed tombs, monsters and worse.
The Guns of Nuln:
Starting with a brief overview of our plans for this update, we intend to add new imperial province to the campaign map filled with lore-accurate cities, forts and villages. Within the capital of Nuln (for our mod) we also plan to pay homage to the great engineers' collages through the most explosive means possible. Cannons!

While cannons are a work in progress, we have some exciting previews to give out this update, cannons so far are being tested for battlefield purposes but will also eventually make their way into sieges!

How it will function: Cannons & Cannon Crews
Cannons, once finalised, will only be maintained by cannons crews that the player purchases from the Colleges of Nuln. The player will still have the ability to fire the cannon and will also have some control over their placement on the battlefield. Starting with Mortars, players will have new combat opportunities available to them and they will be as devastating as they should be.

With time the AI may also have access to these weapons for use in battle against each other and also the player.

To make use of them in combat the player will have to recruit Cannon Crew while also having a piece of artillery bought and owner as well, they will gain experience and progress as normal units do and become more deadly. It will be limited of course to retain balance and to add an element of strategy to combat but they will definitely provide an explosive punch. In future these will also be useable within sieges.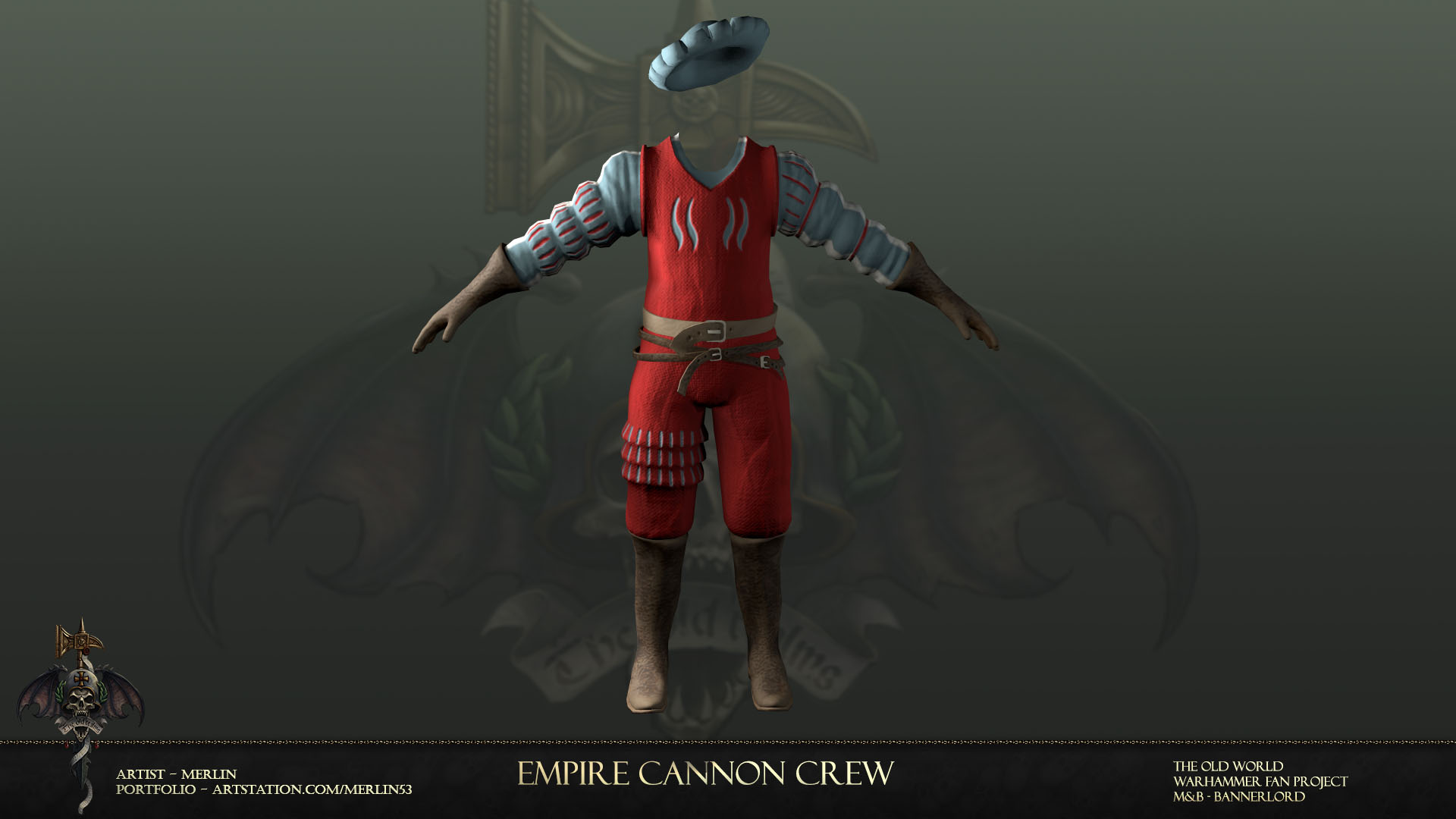 ENGINEER Companion: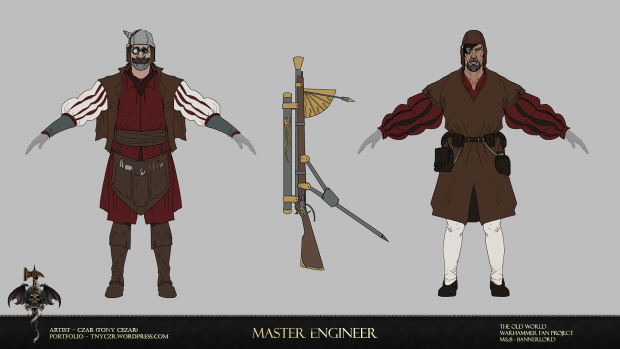 Engineers themselves will also become a new companion type for players of the Empire, or for now any faction, and they will serve as a means to boost the capabilities of the players artillery in battle. In time they may also have campaign map bonuses related to the maintaining of these mighty weapons, but that is for the future.

Custom Workshop of The Engineers of Nuln
Crafting! Guns will not only be buyable but we plan to implement a method for the player to request, with enough money or reputation, a finely crafted and custom-made weapon from the Engineers of Nuln. It will of course be quite potent gear, taking time and effort but it will be worth it.

The weapons we've displayed up until now; including pistols, blunder buss, sniper rifles and so forth are built with the intention of having custom functionalities.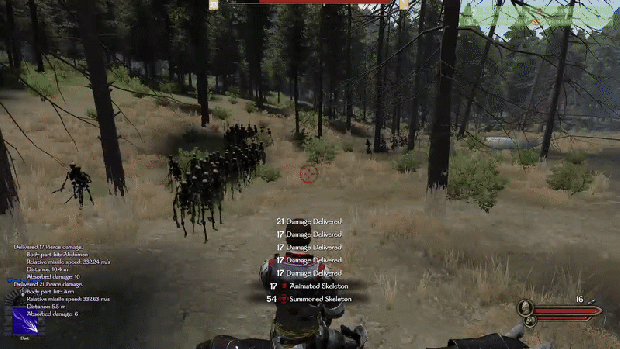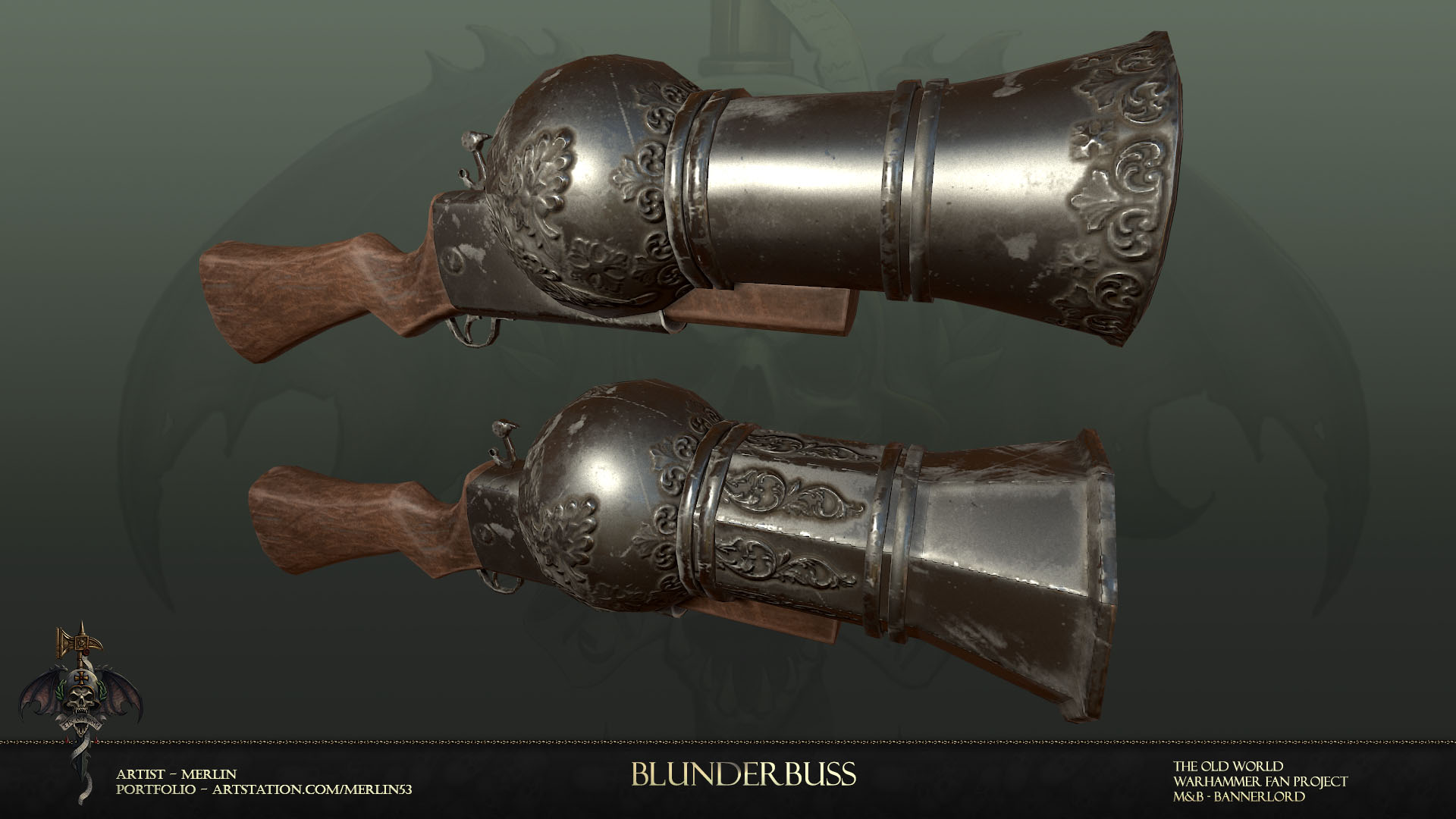 New Spells and improvement of magic system:
We continue to work on the magic system and expand upon it within the game, testing various new methods of use including AOE buffs and status affects to weapons but this is something we aim to be careful with to ensure magic doesn't end up broken in combat.
Here are some examples of our experiments and upcoming additions:

Balancing for VC:
In addition to the new features that come with the update, we plan to do some balancing. We are aware that the Vampire Counts are currently underperforming unless the player joins them and we plan to change this through the addition of new Clans as well as changing the current diplomacy.

All factions will be able to war upon each other and will all start out at peace, giving them a far better chance at survival. While the states vying for power against each other should also make things more interesting within the Empire.

Troop Tree progress:
We recently showed off our updated troop trees and are happy to share that we area currently making progress in overhauling all of them, they'll soon be in the hands of the players and should provide a more in-depth and interesting experience for the player in both recruitment and battle.
While there may remain a minor number of placeholders once we update the tree, these will not last long.

Happy Holidays:
Lastly, we wanted to wish everyone Happy Holidays! We hope everyone is enjoying themselves as best they can!

As a team we wanted to give a massive thank you for your continued support for our work and mod, we are excited to bring more of the Warhammer World into the hands of our players!
HAPPY HOLIDAYS!