Happy Holidays Xalenians! It's time for December's monthly update. Let's start with the most important part though, the Alpha Test weekend!
Alpha Test Weekend
The Public Alpha Test weekend will be organized during 23rd-25th of January 2015.
This time the accounts from previous alpha weekend were not removed. This means that if you participated during July's Alpha Test then you do not need to make a new account.
However, there was no time to implement password recovery nor account management so if you have forgotten your email, account name or password then go ahead and register a new account.
If you're not sure whether you have an account or not then go ahead and try to make a new one. The system will inform you if the email is already in use. The account creation will also stay up throughout the Alpha Test so you can make a new account even during the test.
The sign up-page has been up for a couple of days already. It can be accessed here:
Gekkeijuonline.com
The download link to the client and instructions will be emailed and posted on the account creation page just before the test starts.
See you online!
More Crafting recipes
Quite a lot of new recipes were added for professions such as tinker and tailor. Some more have been planned already but they may not make it into the alpha test.
Private messaging
During the previous tests players have been asking for functionality to send private messages. This system was finally implemented although it'll require some more fine tuning and added functionality.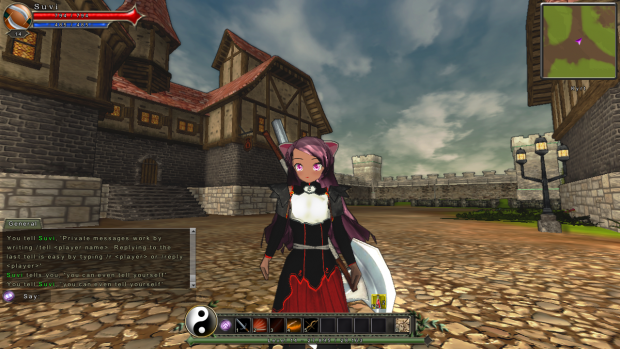 Sending of private messages is done with the command "/tell ". Replying can be shortened to /reply or simply /r . In fact after you've typed "/r ", it'll automatically be replaced with "/tell "
Monster difficulty graphics
The monster difficulty level now shows up in the target selection GUI. The difficulty affects monsters' stats making them much stronger than the normal monsters of that same level. It can also be used to mark rare named monsters etc.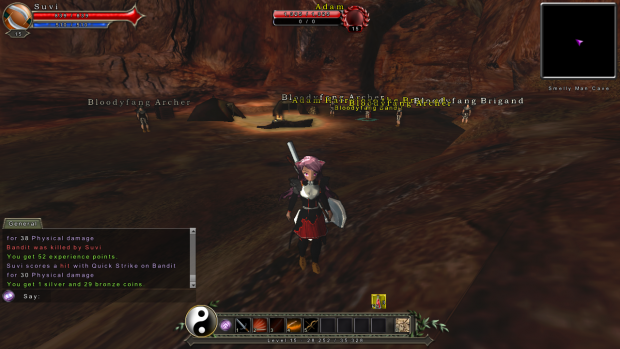 More quests
A couple more quests were added related to the first public dungeon as well as a quest leading players from Eryas Hold to Kyrt Farmlands. This brought the total quest count to 50. The estimation is that we'll require around 100-150 more before the private beta.
What's next?
The next month will likely be dedicated to just polishing the existing features and fixing bugs while getting ready for the Alpha Test weekend.
However, plenty of plans have been made for major features that may get added during the next 6 months. More about these will follow during the next couple of months.
Stay tuned and see you online in January!