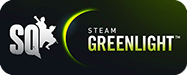 This month we have ramped up internal testing with developers and select community members, playing with over 30 players in a round with only a few minor hiccups, and the results are very promising! We're aiming for bigger and better in future tests.
And of course, as in the last announcement, we have gone live on Steam Greenlight! Visit the
Steam Greenlight
page here to see more media content including a brand new trailer. We have received over 30000 votes, and we aren't aiming to stop now! Please vote!
Read and view all the update here: