Hello and welcome!
This is our first monthly overview of the Company of Heroes Modern Combat mod. This overview, which will be published every last Saturday of the month, will sum up all the info and media released that particular month, and might also include some new media, as it happens to be the case with this overview. We're doing this, because we can't plan in press releases exactly on time, nor do we want to make you guys and girls wait any longer if a press release is ready. Therefore, you know from now on when to exactly expect a summary of last month, which contains media and/ or info you happened to miss that particular month.
First of all, we're introducing several new developers of our team. We start out with Porta, who will be assisting us with mapping. Porta is an experienced mapper, and some of his work can already been seen in the mod Eastern Front, while another one is in the works for Operation Market Garden.
Next up is Copernicus, an experienced coder, and has been active in the modding community for Company of Heroes since late 2006. Copernicus will help us speed up the coding progress, and is therefore a big help to everybody.
And last, but certainly not least, we welcome JcChase520. JcChase520 has experience with SCAR coding, and will be also be able to help out with the Object Editor, and other Relic tools that are required for implanting new models in the mod.
This month we were also able to get a homepage up! Many thanks and praises to Guedoe, the BlackSand Studio Admin, and to Sven, who did all the coding for our homepage. Visit our new homepage. Of course, with a new homepage also comes a new forum. The homepage opens up new possibilities for us, which includes more frequent updates for you, the public. You can also find all of the published content, which includes pictures, screenshots and movies! We are all working hard to get as much content out for our fans, so be sure to keep an eye out for our homepage. Our new forum has replaced our old forum, so if you got any questions, comments or anything else, feel free to post it on the forum.
The other big news this month was the release of an actual in-game trailer, which contains several new units with all their skins, animations and effects. The trailer can be found on our site, in the movie's section. If you haven't seen the video yet, be sure to see it when you got the time for it.
And just five days after all this news, we had another quick info post ready for you. The update contains high quality screenshots from the trailer, which gives you the opportunity to check out every detail of the new models introduced in the trailer. All of this, can be found here. But we're still not done yet, we also have a community poll, which gives you the opportunity to vote and talk about your favorite faction. Be sure to fill it in, and share your vision with fellow forum members.
As to spoil you boys and girls for the lack of proper press release's, we got more in-game content for you! This time we got two new models to show.
We start out with the M106A3 mortar carrier. The M106A3 will provide mobile mortar support to our U.S. faction. The mortar carrier has the same purpose as the Panzer Elite mortar carrier; provide mobile mortar support.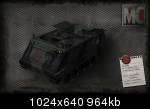 Up next we got the M2A3 Bradley Infantry Fighting Vehicle. The Bradley is a versatile unit, because it packs a good punch with it's 25mm chain gun. Furthermore, the Bradley can be upgraded with TOW missiles, adding anti-tank capability. In the pictures below, you can see our Bradley in action on the battlefield.