July has been a very productive month! With new team members and more stuff being done, it is safe to say that Revolution will have no trouble being completed. With Facebook and Twitter pages of Revolution being updated daily, it is amazing how fast and productive my loyal team members work. As well as considering how much time they put into the project. Each field of work within the project so far has encountered a lot of new additions.
Design and Story
I am continually updating the design treatment as much as I update Revolution's Facebook and witter. Also I put my design ideas out and share them with the rest of my loyal team members to gain opinions and other suggestions. I have been writing the script for the story so that we can come up with more characters and locations. I have received suggestions from the community and we are using them, as well as the thoughts from the other developers, in order to create a believable and motivating story.
Programming
The only programmer we have so far, Ivan recently sent me a prototype allowing me to test player movement. There is still a lot to do but the sandbox grinding and acceleration work really well. He is also creating particles including sparks and explosions. He is continuing to work on player movement. He has extensive knowledge of coding and has been able to fix bugs quick and even has found out new ways to do things that were never done before.
Level Design
Lee has been working on the garage level which has a training warehouse and a large street area with different exits leading to the other levels in the game. He has created rough sketched plans and posted some nice images rendered from 3D Studio Max. Ethan has done a great job so far of designing the first level outside of The Garage, Kuchi Plaza. Like Lee, he works with 3D Studio max and has showcased some impressive design images. Stephen, who was with me before the announcement of the project is also doing level design, as a lead.
Concept Art
Edward, our first concept artist has been improving every time he has a go at sketching for more characters I ask him to draw. His dedication still stands strong. Robbie, who recently joined the team is producing excelent sketches, colored images and 4 view images. He is a great
addition to the team and he deserves a very warm welcome, especially being the Lead Artist. Another new artist is Anton, who puts in a lot of passion into making more detailed drawings of his imagination of the characters. As you can see in the image section, art is looking really good and I am looking forward to the completion of the first milestone which is close: Finishing concept art.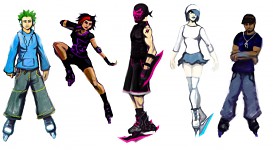 Sound Design
Paul, our first sound designer has been working hard and has sent me a great amount of cinematic and high quality sounds that are going to be in the final game. He is working at the rest of the sound effects that are requested as well as working on some music, we wish him the best of luck. It is also a very good sign that he enjoys being given more sounds to record!
GUI Design
James, our first 2D artist and GUI designer has been a great team member. He has uploaded great images including the banner and the hadn holding the can up. He is working on the GUI as well as some graffiti tags. In conjunction with his participation in design discussion, he has been a hard worker and has displayed a considerable amount of passion. Gareth is a new member of the team doing interface design. Sam is also working with the art team.
But that is not all! Every monthly update I interview a random team member and ask them a few questions. Read below:

Who are you and What is your involvement in the development of Revolution?
Lee: I'm now an Ex-student with a shiny new degree in Games Design, I've played video games
all my life until I suddenly discovered level editing tools for games. With this new discovery
came a new hobby and passion, until years later I decided I wanted to make a career out of this.
When I came out of University, I wanted to finish off some of the work I had made during my studies
and even make something new. While pondering over what to do I had a better idea, why not join a mod team? as nothing screams "Awesome portfolio" than making a game! So then I joined Invulnerable
Productions as a Level Designer.
Why did you choose to apply to help with Revolution instead of another Indie?
Lee: Truth be told I actually applied for several, I managed to get two Level Designer offers;
One for a game using the source engine which I'm very comforatable with- but the project was a
secret, and one for a game using Unity which I haven't used before, to build something similar
to Jet Set Radio.
I've mostly built levels for First Person Shooters, so building a world for a skating game
comes as a refreshing and challenging change. So really I joined for the reason of making
something new and interesting.
What are your thoughts about progress so far?
Lee: Progress I would say has been slow and steady, currently different members of the team have been making and showing off their concepts for what they are about to build. It's early days yet but I
feel that when game starts to be pieced together, we should be rocketing along in no time.
How do you like the team?
Lee: I've not personally been in touch with most of the team just yet, apart from my fellow level
designers. However from what I have seen and heard, I believe we have some good talent on our team
with most of them also coming out of University. I can't wait to see they all make next!
What are you currently working on and what can we expect later on?
Lee: At the moment I'm finishing making a concept for the first level, an area where the player
first starts off and can come back to at any time. Currently the level is a simple build in 3Dmax,
the next step is to detail and texture it to turn it into a playable and fun world.
All in all, a great month of development. Gaining new team members and getting more things done. We are all enjoying the progress made so far and continue to develop Revolution to ensure it's highly polished release. With your support, we are motivated in producing the best game possible. Stay safe, and continue tracking/following/liking.