Yesterday, our first development report ever was posted over in the 0AD forum:
Wildfiregames.com
It was written by Niektb: Thank you, man!

I still remember those old days back in 2013 when I first enrolled the Millennium A.D. project. How time can fly! Today I'm happy to write the first Development Update ever.
We're still busy with the first Civilization. These are the Vikings. They're starting to take shape with some cool buildings and ships. The buildings and ships are modeled by our 3D artist Stanislas69 and a couple of concepts are drawn by Le Druide Gaullois.
Buildings and ships
Here are a few screenshots:
Balancing and gameplay
Balancing, implementing different gamestyle and fixing are mainly done by thamlett and niektb.
The Vikings play differently from other civs and require adaption from the players, which is nice in our opinion.
Emblems and logos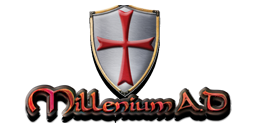 The Civilization emblem is made by niektb and Lion.Kanzen, the Millennium A.D. logo is created by Lion.Kanzen.
Sounds
The soundtracks are created by Antti Martikainen. You can find more of his work here: Anttimartikainen.bandcamp.com and Youtube.com
This is the theme song: Dropbox....f_the_Earth.mp3
So far, so good the updates for now. We're grateful for everyone that helped us this far! We'll keep in touch!