Hey, it's me again.
This week I have some more designs as well as a new concept to show. Get ready for concept and pixel art.
Monster
To finally get to the point where we can actually implement foes on randomly generated worlds I was making some monster designs earlier and we ended up deciding on the nymph (work in progress name) as a first opponent to be put in the game for testing. She is a kind of nature spirit, which is why I gave her the ability to float hopefully making her seem more magical. Her attacks will obviously be water based and most likely magical. You will undoubtedly find her as a monster around bodies of water protecting them with all her might (and cuteness).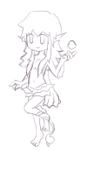 Above you can see how her sprite was made if you are into that kind of stuff and below is a screenshot showing her in-game.
Environment
Although we have only shown off the forest biome so far, that is of course not all that will be in the game. To get a better idea of what biomes might look like I made a small concept for a cave. Now keep in mind that this might not really reflect regular caves in-game. You probably won't find big artefacts and ruins like this everywhere. Still caves will play an important role in the game since they will provide you will with all kinds of resources and other things. Treasures as well as monsters just wait to be discovered here.
So that's it for this week again. I hope something could catch your interest and if you would like to see more check out some of our other posts.