Monday Update #2
Progress Report
Todays monday update comes with a video glimps of the mod in its most embryonic stage.
DrakkLord has been very ill as of late and was forced to take a week off even his real job in order to recover, almost back to full vitality he finished code for the the Single Chaser Elements primary firemode "Chaser" which launches relativley slow projectiles that split up and attack all enemy targets.
After this he quickly began work on the Single Lightning Element's primary fire mode "streamer" which fires quick streams of super compressed electric energy through all objects and enemies.
What is shown in the video is still very very early dawns in the development of this weapon and thus most likley wont look like this the next time you see it :D GHR resident Coder DrakkLord had this to say:
DrakkLord: "
... hmm still work in progress"
Concept work
Going 2D now back a few steps to the concept art phase, Rukifellth was hard at work drawing up the "Blitzblade", Oranges personal flying battleship, which leads the Empire assualt against the "Armadillo", -Gunstars Main base of operations- at the start of the game.
BlitzBlade Flying Battleship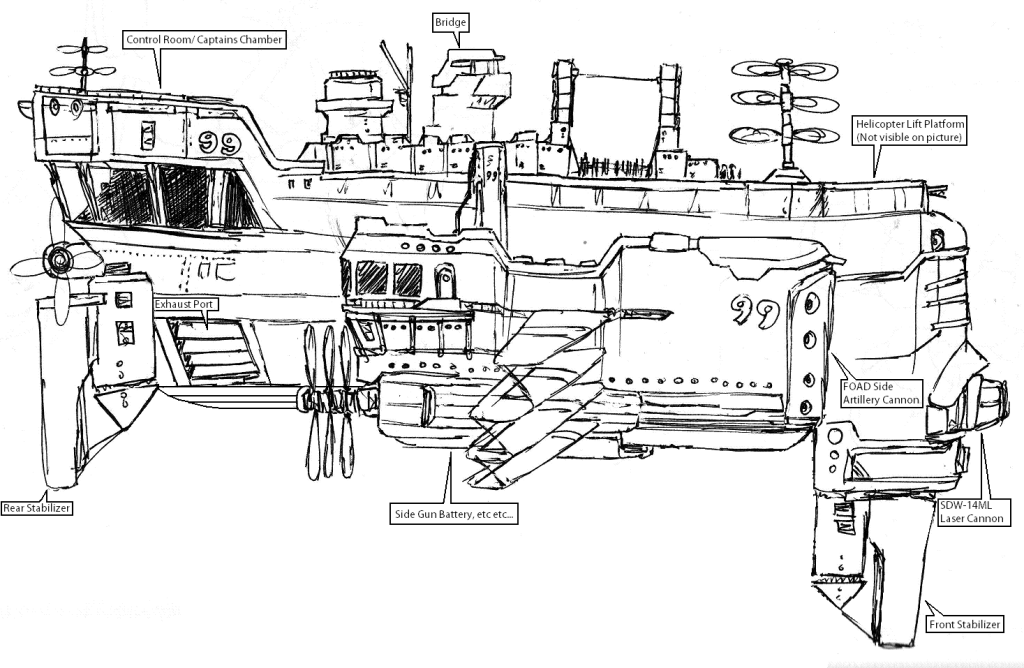 With this stunning work from Rukifellth he had this to say:
Rukifellth: "The Blitzblade, General Orange's base of operation. And his baby. That is if babies where several hundred meters long.
I had a very clear image of how I wanted it to look like. I tried to keep it's appearence to the original, while still adding details and parts that made it look fresh. Like the parts you normally don't see in the game."
Music
On the musical front, Tim N is sorting out some off his work recieved proir to his accepance into Studio75, thus will be making our heads bop somtime in the near future. real life must come first :D
Thats all for this weeks progress report. come back next monday for more :)
Staff Required
UT2004 Mapper needed!
Gunstar Heros: Resurrection needs a good mapper that is able to work fluently with and without team guidence, must have an ability to visualise the look of a map, and work towards a suitable outcome and produce work and change it to the teams or my needs.
This has yet to happen in any form, mapper i have spoken to are either too busy or shy away from this mod, we are easy going, nothing is being rushed, we all are busy people and we work our lives and mod inbetween, this mod enables us to still have lives while not clawing at us for our life force.
If you know anybody who is a mapper in Ued for UT2004 then please give them a knock and tell them we are hiring now :) if this position can be filled progress can really start to be made. and the faster we can bring the mod to your systems at home :)
So please be our eyes and ears, and pm me if you think you might have a lead. :)
Thank you for visiting.
--75--