Okay Squad, now pay attention because we have news from the Frontlines for you!



General Smithy and I have been very dedicated to this the past few months! So you better make us proud with your outstanding service Son!

Here is where we can declare Victory:
CUSTOM FOV - You can now select your individual FOV in the Video Settings Menu.
It will work on any server that uses the new HZM Coop Mod Command Codes.
STUCK PREVENTION - This will help you to get free from bad spawnlocations.
Report any bad spawnlocations directly to the HZM Headquarters on discord.
AI TEAMMATES - We have intensified the training of your friendly Teammates.
They will be more reliable and hopefully smarter in combat, especially the medics.
NEW TERRITORY - We have updated your Battleplan to include new Terrain:
training - The Bootcamp is your new home Rookie.
m4l0 - Here you will learn how to properly feed dogs.
e1l4 - You get to sink a Kraut Ship.
e2l1 - You get to visit Sicily and stir up some Spaghetties.
FASTER DEPLOYMENT – We know you are eager to fight, so we give you Quick Connect:
You get to Blitz Connect to the official HZM Battlegrounds.
NETWORK PRECONFIG – We understand you don't have time to waste in polishing up your gear and check every little detail.
Which is why we give you the one click network config option.
IMPROVMENTS - We did make a lot of Performance related improvements.
This will only be noticable during prolonged combat, so don't worry about this to much.
FIXES - We did also do a great many small and big fixes all over.
Ranging from maps to fixes and restructuring in the core.

Next Updates
This War seams to drag on forever. So expect to hear from us on March or April of 2021 at the earliest.
As we are not quite there yet at the faster release cycle.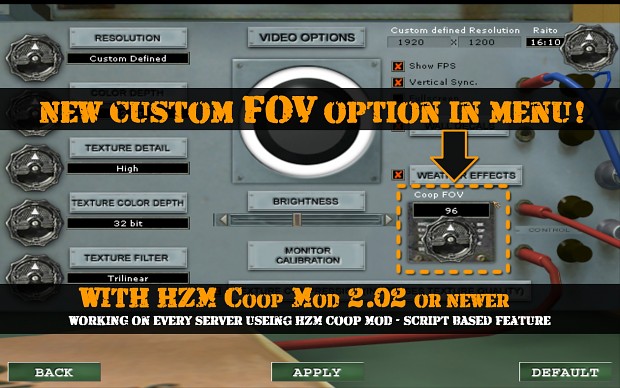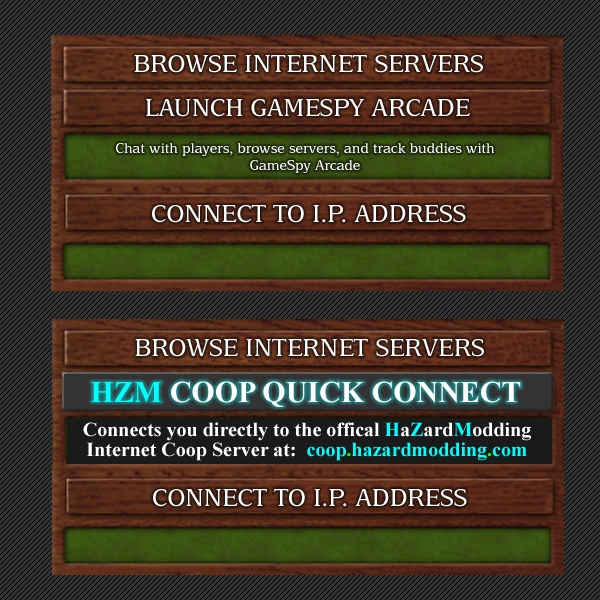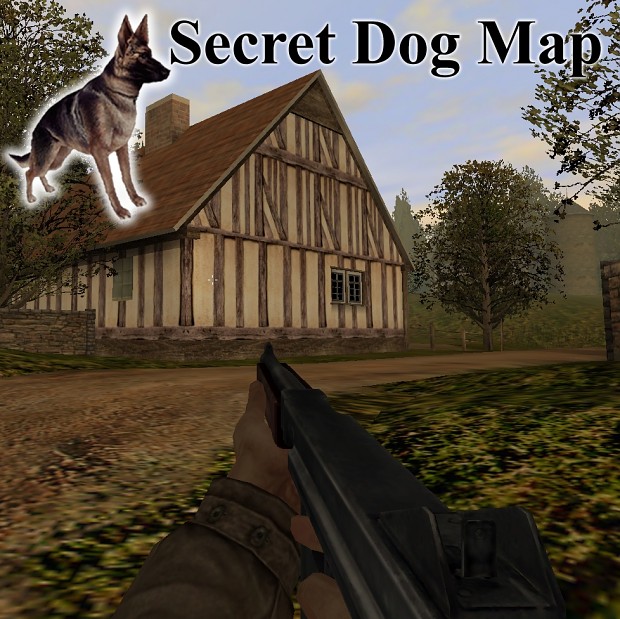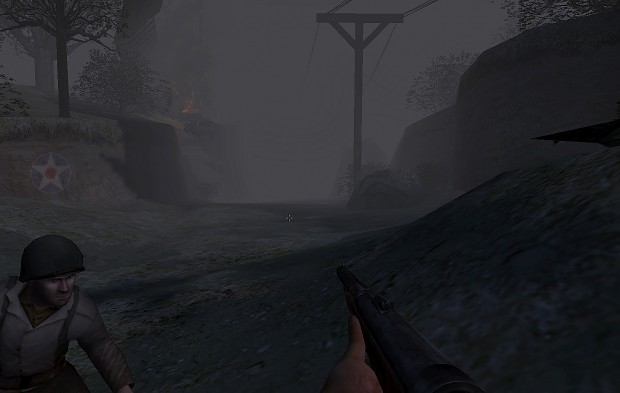 You can support us by giving us Feedback!
Here in the Comments or on Discord!

Special Thanks
To our Quality Control Inspector ChannelDaniila.
Custom Maps/Mods
Want your map in the Coop Mod ?
Want to use parts of our mod for your Server/Maps/Mods?
In any case, just contact us!
Servers
We will change the Public Stable 2.01 server to the released 2.02 Version soon.
The public development server will have the latest version (you might not be always compatible).
185.233.104.113:12203 / 185.233.104.113:12204 / connect coop.hazardmodding.com

Join us on Discord
We have a Discord server on which most of the magic happens.
You can join us there, talk or even look for other players to play Coop with.
Also we still looking for people that are motivated to convert maps-scripts to coop.
Discord.gg