You've all been speculating as to the fate of Modular Combat. You think we've abandoned you. You think we've had a falling out. You believe that we've abandoned you. It's been almost a year since our last release.
This is what v1.77 looks like:
Updated character management system
Added weapons upgrade system
Restructured menu system
New modules, including the very interesting "Phase Shift" module
Customizable server-controlled monsters: Server owners can create new types of monsters by controlling the model, skin, and health/damage values
Suit creation now includes even more customization
Each account now holds a maximum of 12 suits
New BoSS sounds (including UT style spreeing calls)
But if you're were member of the Mod Fidelity community, you already know most of this. For those of you who don't know, we did a huge open beta where we invited in almost all of our active community into our private server to test things out.
This was a huge mistake.
This open beta stemmed from the fact that our QA lead had disappeared on us and we were left running around like chickens with our heads cut off. The problem was that we weren't getting the appropriate kind of feedback we needed in either case.
This is not to say that the the open-beta testers weren't helpful. They were incredible helpful, but we still lacked that structure that Joe brought to the table. Now that Joe has returned and is ready to help out again, we are ready in that area.
The Coded Image
When your mod feels like it's floundering, you want to do everything you can to bring it back to active development. The truth of the matter is, the main driving forces behind the mod, Winston and myself, got very busy.
We both have gone through some serious life changes. I've moved, started a whole new life, got into competitive poetry (yeah, cool, eh?), and started a new job.
Winston is getting married. Yeah! Give him your congratulations in the comments below.
So you're all aware of this image: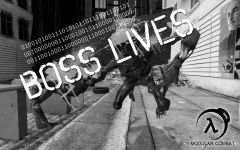 I will admit that I created this image to bring some hype back to Modular Combat. Not for you guys specifically, but for my team. I wanted Winston, Mason, Joe, and Jordan to know that I was back on-board and ready to go.
We missed the deadline.
No excuses. We did. I did. Steam won't install on my computer due to a bad sector on my hard drive that's been plaguing me. Winston is too busy with work, and Mason (our second, awesome programmer) is just crazy busy.
It's been almost a year since our last release. We have released because there is a huge crash bug that we can't seem to solve, no matter what we try. What happened is that we didn't follow weekly testing routine and suddenly we were getting crashes without stopping to figure what or where they were coming from.
Feature creep is a huge issue in our development cycle, and now we're paying for it.
So, is Modular Combat v1.77 every coming out?
Winston and I had a conversation about the state of Modular Combat and what we want to go with it. We both lead busy lives. We both have full-time jobs and tons of our responsibilities.
But when it comes down to it, Modular Combat is our baby. We both agree that there is unfinished business here. We both want Modular Combat to succeed. We want to give back to our community the same way they have shown us support since we started this over two years ago. We owe it to ourselves and we owe it to you.
August 24, 2010. That's our target release date.
We're 2-years-old now.
Someone pointed out that Modular Combat is two years old. Wow. I don't have time to reflect on all the amazing things that have happened to us...but here's the skinny:
239,000 views to our Mod DB profile page
Over 6000 downloads
Our Steam group has over 300 members
We have met so many amazing developers and players during our active time
We gained sponsorship through Nuclear Fallout (thank you)
There's so many amazing things that has happened to us. We just wanted to thank you all for your continued support throughout the good and thank you for your patience during the quiet times.
We'd like to ask you for your continued support during these next couple of months. We will continue bringing you updates as much as we possibly can.
Now It's You
OK. I've told you where we are at...but what about you guys? These next couple of months will be focused on this crash bug, so I can't really bring you new updates.
What I'm asking is...what would you guys like to see from us on Mod DB? Would you like a few refreshers on what we've done with the mod? Would you like our thoughts on what's happening in the modding community?
What can we do to help you get through the next couple of months until we release?
Let us know in the comments below. We'll be in touch soon.
Mod Fidelity