We are pleased to announce what modding capabilities the game will have. These aren't features that still need to be built, they already exist! The benefits of building the game ground-up with that feature in mind. You cannot access them yet however, but they will be available during Beta.
Without further ado, here is what you can expect:
Level editor: create and share your own levels with the fully interactive 3d editor.
SDK: build classes and scripts in the integrated software development kit and deploy you mod packages.
Campaigns: Create your own campaigns with levels and units.
Groovy scripting: create entities, level code, and items with the Groovy scripting language.
Game commands API: easy to use API to access game commands and manipulate the game state.
Game events: Intercept game events, such as 'unit spawned', and manipulate them.
Add systems: Create self-contained systems to add or change functionality to the game.
New features will be announced as they come available.
A shot of the level editor in action: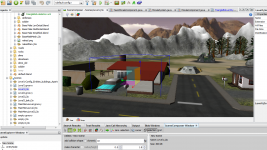 A lot of the mod information will be posted on the lovely ModDB site.
And finally, don't forget to help out our Kickstarter campaign so we can get modding sooner!