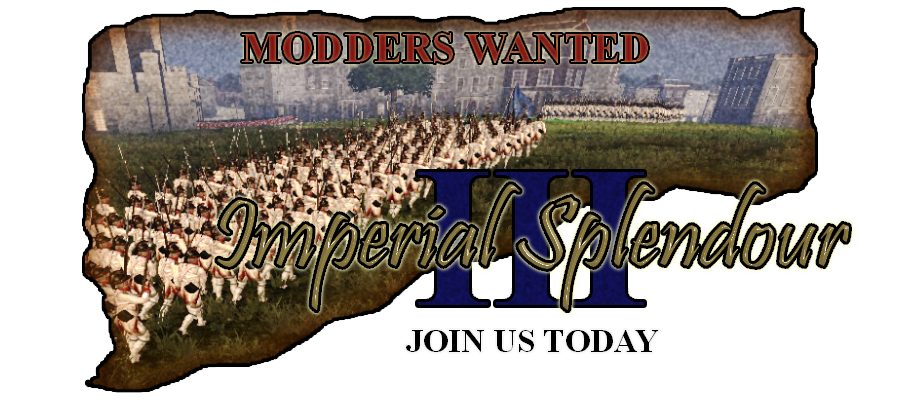 DEAR MODDERS,

I am Pikestance. I am the New Project Manager for the Empire Total War Modification : Imperial Splendour. We are looking for dedicated modders to complete the much anticipated Imperial Splendour vIII. If you are a new, but enthusiastic novice or an experience modders looking for a new challenge, then we invite you to apply. Below is a brief summary of what the Mod and what we hope to accomplish.

Imperial Splendour attempts to create the best, historically accurate Empire : Total War experience possible while maintaining the essence of the game.
The first aspect of Imperial Splendour is to offer a unique gameplay experience with each faction. Please visit the Faction Discussion area to read about each factions unique qualities.
The second aspect, an innovation for Empire : Total War, is the evolution of the uniforms, separating the Grand Campaign into three periods (Early, Middle, Late). Each period allows you a different roster so as to be the most historically accurate. The uniform changes by periods and by revolution, consistently corresponding with major conflicts of the 18th century.

I.S development is based on
Unit evolution along 3 periods : War of Spanish Succession (WSS), Seven Years' War (SYW), French Revolutionary Wars (FRW)
Unique faction's units rosters
Unique faction's technology tree
Unique faction's building chains
In addition, the I.S team is developing a:
New Recruitment System
New Battle Mechanics
Line of Sight system
What are we looking for?

We are specifically looking for 3D and 2D artists to complete units for the three time periods. However, being capable modding the following would be most ideal
3D artists could have to create :


Campaign building models (UU3D needed as converter) : Easy
Equipments (UU3D needed as converter) : Easy
Engine models (UU3D needed as converter) : Easy to Medium
Unit models : Easy to Hard
NOTE : We can not yet create new Battlemap building, at least garrisonable one, but it is possible to create new non-garrisonable buildings using TW:S2 Assembly Kit, because TW:S2's cs2.parsed file can be reused in ETW and NTW.
2D artists could have to create :
Icons
Info Icons
Portraits
etc.
Model textures
diffuse texture
normal texture (bump map)
gloss map
DB editors could have :
to add units
to add new technologies and techtrees
to add new buildings and building chains
to edit startpos
If peoples have knowledge of LUA and C++, it would be possible to expand W.A.L.I abilities, particularly to create a "true" unit evolution system that replace "obsolete" units by new one when reaching a "Army reform" technology.
Historical Researches : Faction design


Units roster must contains, at least, following data :


unit name
unit type and subtype (exp. : Cavalry > Heavy > Melee or Cavalry > Medium > Shock)
AoR regions (Area of Recruitment)
recruitment limit (global and regional)
picture representing the unit (if possible)

Building chains : can use this document as a basis

Technology tree : can use this document as a basis

UI and 2D art


Flag chart : 90% done
Portrait lists : Military and Politics/Agents
UI
Icon Chart

Writers


Unit descriptions for each faction
Building descriptions for each faction
Objectives for each Faction

If interested or have any questions, please contact PikeStance (Mod Manager) or wangrin (Mod Leader) or email us.