Hello all! It's been a long while since the last mod update (not counting the planet list) and a good bit has happened since then.

First off, given the ongoing pandemic that progress on the mod has been wonky to put it lightly. I have been fortunate to retain a job but had to work even more just to make sure I could provide for my wife and I BUT we've also been saving up to move. Speaking of moving, this Saturday I'll be moving into a nice apartment with a great space for an office space which will definitely make modding easier (I'm from my laptop on our couch). Once the office is set up I will probably showcase the work area for you guys.
But that's enough about what's happening in my personal life, lets talk about the mod!

As you all most likely have seen, there have been a good number of units that have been added or models that have been replaced. Currently the mod is using Republic at War as a base given it's proven stability and it has the material I plan to add. Because of my using Republic at War as a base, a beta (specifically a skirmish beta) isn't likely to happen for a while as lots of assets need to be replaced so that anything used by the RaW team isn't in the final release (this includes maps, props, units, as well as some code).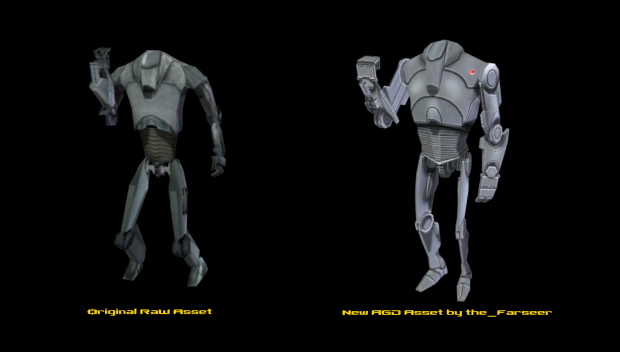 Fortunately the speed at which assets are replaced is moving fairly quickly. As you all most likely have seen, the_Farseer has been working on these brilliant new models for the mod in the form of commissions. For more information on these commissions you can visit the_Farseer's mod here and support both his work and mod as well.
With units lightly covered, there are plenty of heroes planned, both minor and major. The idea is that our major heroes are designed to be MAJOR heroes. Our minor heroes will be accessed either through recruitment or by spawn. However, regardless if the hero is major or minor, they all share one key trait: all heroes will not respawn when they die. The idea of heroes with the permadeath trait is something that I have personally toyed around with but never fully appreciated until recently through the works of .Corey. and the Empire at Wars Expanded team. So guard all your heroes well, because they'll be valuable in many conflicts or scouting missions.

When it comes to maps, there is still a lot of work to be done. At the moment, I have enlisted the help of fellow modder Penumbral to help me in this massive task. Progress for new maps has stalled in areas due to some issues with the map maker or due to a massive lack of specific props. However, I am still looking for more people who are interested in joining the mod team no matter if you're a coder or a mapper (which are the two key areas most needed).
Overall, that is the current state of the mod!