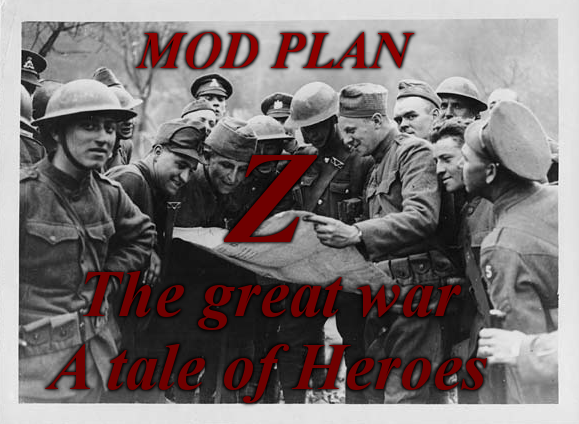 The great war : A tale of Heroes
Plan Z
Plan Z : A great beginning
After long time of inactivity, I was struck by some news given by a friend telling me that a mod is stealing my content.Actually the mod was not stealing MY content but BoE content, and I also seen lots of friends and former supporters watching that mod, which is just a pure BoE with Robz realism features. My mod had huge inactivity sadly and this a huge disappointment for you guys, I decided to stop working on the mod, and also because of the haters, yet I seen so many people still supporting me people that want to see this mod alive, so here it is PLAN Z.
Plan Z is meant to revive the mod, also why I said a great beginning? Well the mod will need a total restart from scratch and new unit models will be made due to most of the old ones crashing, which will require months or maybe years of intense effect.
How to help me :
Haha I guess it is a joke, I am not a crazy developer stealing your money, if this work affects me then it should affect me and only me, yet researchers, mappers etc. will be accepted into the team!
How will this work?
This new work will take long time, this mod is not a rip off, or better said cracked BoE, it is a full mod, full of new content and definitely better than the former mod knows as BoE or TGW realism, this is The great war: A tale of heroes, and heroic work should be put in this. This work can take up to 1 or 2 years maybe longer, of course small content will be released to the public and interested you tubers.
Lists :
Lists will be released later as I am working on them right now.
Thanks for your support - Vasikle