Boot Camp Diaries - Pettersen
Drill Instructor Staff Sergeant Dwight T. Barnes stormed into the billet with the grace of an angry grizzly. Everybody knew a storm was coming. "Alright listen up you maggots, I... Where the hell is private Wilkins? And Anderson! God damnit we have a whole squad worth of Marines missing right fucking here! I want answers or I swear to god you'll be chipping paint with toothpicks for the rest of your military service! Now what happened to those Marines?"

The driller approached me with a look of utter contempt like he always did, "Private Pettersen, you're a real smartass, why don't you tell me where they're headed?" He was baiting me. He was always baiting me the old bastard.
"Permission to speak freely Staff Sergeant?" I asked carefully.
He frowned slightly, "granted."
"Navy took'em, Staff Sergeant." If the Drill Instructor's eyebrows could've gone any further up at that answer he could've claimed to have a hairline for the first time in twenty years.
"You taking me for a walk son? I've heard a lot of bullshit in my day, but that one is a real prize winner, you know that private?"

"They said that since we're technically an army branch and have no visible connections with the navy, we also had less rights to keep Marines as our ground pounders, Staff Sergeant."
The Drill Instructor's face reddened for a second before a smile spread slowly across his lips. It was the single most horrifiying thing I've seen to this date. "You know, for a guy who looks like he could suck a golfball through a garden hose you aren't as stupid as you look private." He turned and walked down the row of Marines standing at attention. "Write them off as casualties of war and slap up more of those 'Uncle Dwight needs you' posters."

"Yes, Staff Sergeant!"
"We need more Marines in this mans army! Get into contact with our IT division and tell them to get good use of the new website they've been talking about in the cafeteria hours. It looks powerful enough to pack a real punch on the younger generation."
"Yes, Staff Sergeant!"
"I'm very happy with being able to walk around in places, but if I don't have a hat to wear, I'll look like a smuck. I need objectives met god damnit!"
"I think you mean 'objects' Staff Sergeant."
"What the hell are you talking about?! And where is Tranum?"
"Your orderly isn't here, Staff Sergeant."
"Well where the hell is he?"
"...navy, Staff Sergeant."
Dwight reddened again, but smiled in the way we all know and hate. At least those of us who are still alive. "That means I need a new orderly Pettersen, and you're it. Now quit standing there like an idiot and get me that phone!"
_______
For those of you who didn't catch what the driller was on to about with his missing devs...I mean marines; here's a summary in more familiar terms.
Operation Black Mesa has launched its new website! This cool new update is done by our very own webmaster and he's done a great job with it. Access allround should be easier and the looks and layout have both been streamlined to work better, faster and more HECU like.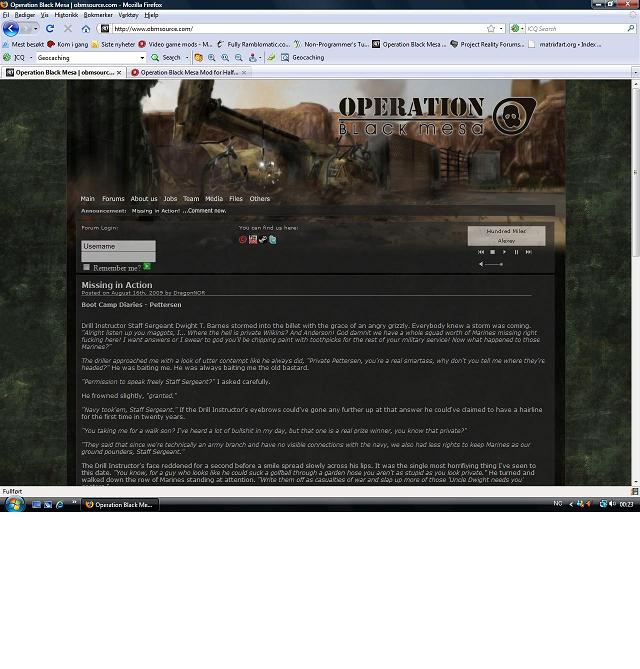 That aside, Operation Black Mesa is currently recruiting! We are in need of the following:
Modellers
Texture artists
Animators
Coders
Concept artists (1 or 2 positions free so be quick J)
If you think you've got what it takes, either apply on our forum under applications, by pm'ing me or by sending an email to stigsydtangen@yahoo.no.