Misery : The armed Zone V1.5
"Update and full versions"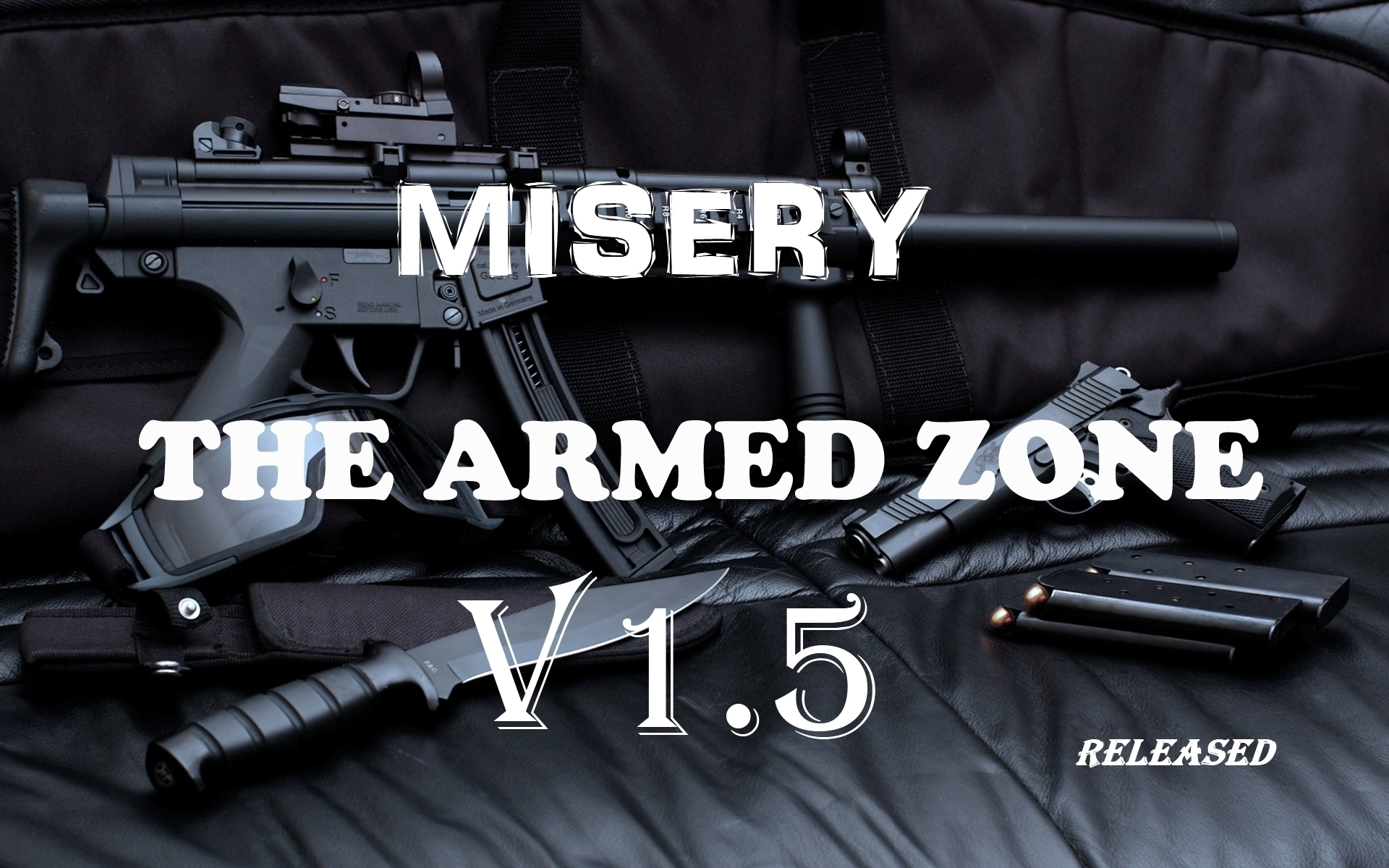 Here is another Version of this mod, it has more weapons and few fixes for V1
This version comes in two variants, a full and an update version, the update version will require V1 to be installed first, but the full version will not.

Here's a list of tweaks and fixes :

- Corrected 9A-91 scope position
- Corrected Tactical Val Scope position
- Added new PPD40 icon
- Corrected M4 attachments positions
- Added new Scope texture for the M16A4
- New icon for M16A4
- M16A4 brought a little closer to the character's face for better aiming
- Minimized "The eagles" icons
- Fixed "The eagles" models in 3rd person/NPCs' hand where both eagles shared the same model
- Fixed a glitch with the skorpion, it won't be single handed as this makes it glitch out, but it will keep the corrected aim & shoot animations
- Nefred AEK919
- Nerfed Thompson
- Tweaked the MP5k
- Corrected 4:3 sights allignement for most V1 weapons, thanks to nervo82 for the great work
- Corrected hand position for Famas Prototype "visible stock problem"
- Switched Tactical AK ammo to 7.62x39
- New firing sound for M-60 and M4A1
- Added few bump files for some weapons
- New Animations for the Spas-12 variants, the animations were ported from SRAP mod made by King Friday
- lowered some weapons spawn rate in NPCs

A little preview of the SRAP animations

-------------------------------------------------------
Beside the above fixes, V1.5 got new weapons obviously, here they are :

Black P99
white P99
G36 Compact
G36 Compact & Camouflaged
FN57
SR3M Vikhr
Kobra AEK973
Special Version of Spas-12 with Aimpoint --------Carabiner
Another special version of Spas-12 --------Trapper's shotgun
M629
M82 Barrett -------- obtainable only when triggering "One shot" mission
Vihr
AK-113
MP5A2 -------- Mp5 Frazier
M1935 "HPSA" with several variants -------- this will replace all the HPSA pistols
Moden desert eagle with mulltiple variants -------- this will replace all the desert eagles
Mirrored AKS74u model with several variants ------- this will replace all the AKS74u models
New camouflaged protecta with glowing sights ------- Nimble's Protecta
PKM with Kobra sight, and supporting legs -------- Zulu's PKM
-------------------------------------------------------

New start up gear for the three classes :

- Recon : vihr "shortened version", fn57
- Assaulter : Modern colt45, customized aks74
- Sniper : SV98, BM16 short version "vanilla"

INSTALLATION INSTRUCTION :

*The Update version requires V1 to be installed first !!!*
*The full version DOES NOT require V1 !!!*

- You need a fresh installation of Misery 2.1.1, then install V1.5 above it and replace everything when asked. "A NEW GAME IS REQUIRED"
- You will need to re-select your class in order to get everything working right.
- There's a "Read me or else !" txt file, better read it to know a little more about the mod.