Evening all,
We begin with the flora (grass and plants) of Pharus 07, which is a rich source of energy for the RMD, a Remote Manipulation Device, designed to harness the planet's natural resources and establish a base on this hostile world. Flora based energy is used to directly power the RMD's kinetic abilities; blast, grab and smash - essential tools against the alien hostiles when you run out of pistol ammo.
Additionally, larger elements within the world, such as trees and certain rocks, contain rare materials essential in the creation of defensive and offensive structures, weapons and RMD upgrades. Your aim is simple, develop your base, expanding your territory and when the long night comes, defend it.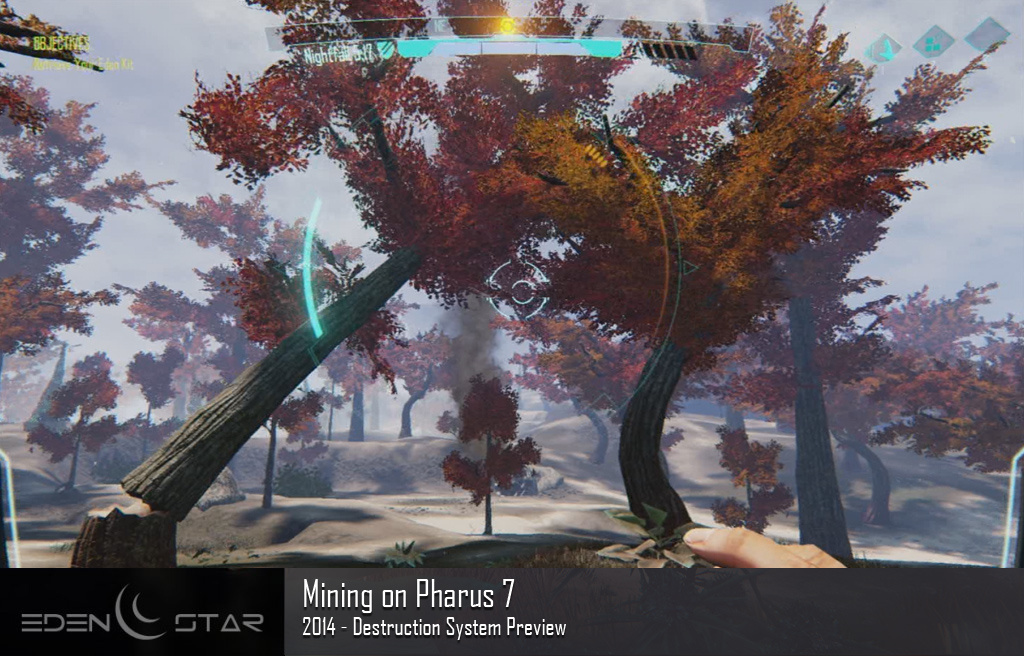 'Mining' and 'resource gathering' is a vital aspect of Eden Star. Using the Construction and Upgrade Menus to find the requirements of your desired item, you must then explore the world in search the minerals needed to create your shiny new toy. Mining often can be a laborious task and in Eden Star we wanted it to be more than that, we wanted to make it as fun as possible. For us that meant pushing the boundaries of Unreal Engine 4, PhysX and Apex to new limits so that we could create bespoke destruction systems, empowering you to feel in control whilst destroying the world around you.
We have worked hard on the development of procedural physics tree destruction, allowing the player to mine from top to bottom, bottom to top, take just the energy-rich leaves and branches or leave nothing but a stump. A tree will rarely fall the same way twice. Of course you may feel the fun will diminish once you completely strip the land of everything useful. This is why we also developed a regrowth system, a byproduct of Pharus' ability to heal itself, allowing the environment to regenerate after a time and players to destroy to their heart's content.
The balancing of material shard spawning, placement and structure cost is an ongoing process but we are making good headway. Though we can't wait until we hand our baby over to the all of you and hear your thoughts and feelings. It's an exciting time for all of us at the Flix office, we are working hard to make Eden Star as fun as possible, squishing bugs, optimising, refining and we simply can't wait until all of you can explore the world we have lovingly created.
As always guys, stay tuned for more updates coming soon. Including a sneaky wee first look at our Smash mechanic in UE4. Also what happened when we handed an early build of Eden Star over to a room full of 120 students at Staffordshire University's Epic Games Centre...It was Epic...See what we did there...Epic like the company...and epic like aweso.....anywho... back to work ^_^