Hi,
I've done this post just to let you guys some of the new features i'm currently implementing and fixing. So far i've had a lot of feedback from the community all really good so i'm glad you guys love the game but there is a lot of bugs there which may not be to notasable but are if you look close i'm currently working on fixing up all the bugs and getting it nicely polished for next update.
I'm hoping to release the next update sometime in late january if all goes to plan.
Current Changelog from Last Update to Now:
Kamikazi wrote: 22nd Dec:
=======
- Added C4 Engine Icon back
- Removed Customize Character
- Removed Weapon Icons
- Removed Color from Main Menu
- Changed Background Color

23nd Dec:
========
- Fixed Motion Blur on Weapon
- Removed Default Weapon

24th Dec:
=======
- Removed Box from Level 5 End
- Updated Level 02: Task 3
- Fix Barriers (Remove Collision for certain ones)
- Fixed Level 01 Triggers
- Fixed Level 03: Task 3 Trigger to Low
- Updated Level 05 for medium instead of hard
- Changed name from test level to playground
- Add Voice to Last Level End
- Changed Level 05 Panel Numbers to Level 05 instead of 01

27th Dec:
=======
- Added CodeLog
- Changed Panels on Level 01
- Changed Cosmetic Details on Level 01
- Changed Spawn Position on Level 01
- Changed Sounds from Markers to Nodes on Level 01
- Changed Panels on Level 02
- Changed Spawn Position on Level 02
- Cleaned Level 01, 02 NodeGraph
I have a big list for what else to do and i'm current working hard to fix it all.
Here is a screenshot of new panel designs.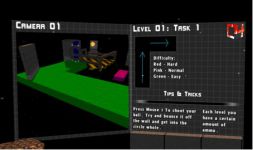 Thanks alot.