Brute?
Yeah! We've recently got a hold of a new concept artist, Yan Zhu has been busy fleshing out the Orc Brute and has come up with the piece below; In game we actually intend the Brute to function as a Bruiser, able to take and dish out a lot of damage, able to devastate players by themselves and being virtually unstoppable when combined with Shaman.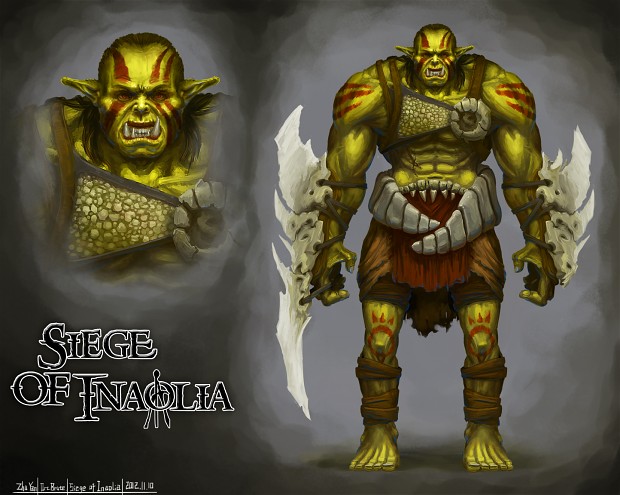 So after trying out our latest build most of you have been asking what Siege of Inaolia actually is and what exactly do we want to accomplish with our combat system as well as what games have we drawn inspiration from; So I'm going to have a small Q&A segment below and answer each of those questions in turn.
#1 - What is Siege of Inaolia?
Siege of Inaolia is a 3rd Person, Action, Survival Game with Role Playing Game Elements such as Character Progression, a Heavy Focus on Story and 3 Player Co-Op.
#2 - What do we aim to accomplish with our Combat System?
So we want to have a very meaty combat feel, probably the best example would be W40K: Space Marine however in that game the combat system is very aggressive, forcing you to constantly be within the fray, within Siege of Inaolia we want the player to have a lot of combat choice via their abilities, tools and actual melee and ranged mechanics that differ from each Hero Character, instead of scaling our players health and resource bars to match the enemies with each level we simply open up a bigger set of tools, we want players to experiment and find out which abilities, tactics and areas are best suited to fighting a particular enemy for example in the case of Offensive Duncan, do you Leap into a crowd of enemies and use a heavy attack to dispatch as many as you can and hope that you have enough ability resource to escape with another Leap and rinse and repeat? Or do you pull them into a small confined corridor and then keep culling their ranks and after gathering enough ability resource cast an ultimate ability and finish them all off.
At our current build its a pretty nice indication of how the speed of combat will actually flow but only time will tell as we add on even more features and abilities.
#3 - What Games(Or Game Modes) have inspired Siege of Inaolia's design?
Treyarch's COD Zombie Mode.
W40K: Space Marine.
W40K: Dawn of War 2: Retribution -The Last Stand.
Dungeon Defenders.
Animations?
So in an attempt to apologies for the insane wall of text that you just read through we're going to show of some of the newest animations we've got for Duncan, hope you enjoy em!
Want More?
Do Track us on
IndieDB
for the latest updates, you can also Subscribe to us on
YouTube
, Like us on
Facebook
, be sure to check out our
Official Website
and Follow us on
Twitter
.
Also I wanted to mention that if anyone had any questions regarding Siege of Inaolia feel free to ask us on our various social profiles and we'll be sure to reply as soon as possible!
It makes a huge difference to us knowing that we've got fans out there rooting for us so be sure to tell your friends about us, don't be afraid to leave a comment below just for the heck of it and thanks for your time!