A Date? How Crude!
No wait! You don't understand! As most of you who track us and read our news posts you know that we've been hard at work since summer with an aim to come out with a better release than what we currently have and really push ourselves onto our next phase and I'm proud to say that we've locked onto a date; The 31st of October will be the day we release our next version of Siege of Inaolia dubbed Alpha 1(We sort of had our old releases turned into Pre-Alphas) and it will contain the following:

Improved AI.
An updated 3rd Person Camera.
The Potion Pickup System currently with just heath pickups.
Offensive Mastery Duncan with his light attacks.
The Ravager Daemon in all its slashing glory.
Inferno finally completed comprised entirely of custom assets.
The entire team is really excited to show off our collective work once again and hope you put your trust in us and continually follow and support us as you have in the past and cross our fingers in hopes that you guys will hold your breath just as we currently are till the 31st.
What About Dinner?
Well about that, you see I try to come up with interesting summary's when I put up new screenshots and/or renders, sometimes you get amazing puns and other times you get weird references, anyway I thought that dinner would be somewhat related to some of the new cooking pot assets we've got but I'll leave that for you to judge.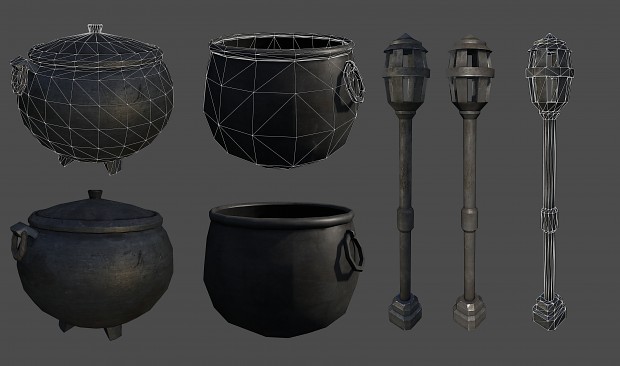 Yes! No it's not a ring but something just as good! Nemiya was able to complete the low poly of the Glutton Daemon(best viewed in HD) and is now moving onto the Ogre while Artem starts bringing the Daemon to life.

Want More?
Do Track us on
IndieDB
for the latest updates, you can also Subscribe to us on
YouTube
, Like us on
Facebook
, be sure to check out our
Official Website
and Follow us on
Twitter
.
It makes a huge difference to us knowing that we've got fans out there rooting for us so be sure to tell your friends about us, don't be afraid to leave a comment below just for the heck of it and thanks for your time!