MINE DUDES, THE LATEST GAME FROM IRREVERENT SOFTWARE IS NOW RELEASED
Mine DudesTM, the latest game from Irreverent SoftwareTM has been released as a DRM-Free game for Windows. Prepare yourself to dig and fight inside complex cavern systems, full of deadly traps, powerful enemies, and danger at every corner.
Build and destroy sections of the levels at will, bury your enemies under the rocks, throw them to lava pits, make them freeze with the ice blasters...and steal all their jewels and treasures to get the highest score.
Game Requirements :
OS : Windows Xp/Vista/7/8
Processor : AMD 1.8Ghz Single Core processor or better
RAM : 1 Gb RAM
VRAM : 256 Mb of VRAM, with full support for Pixel Shader 2.0
HDD : 300 Mb of Free Space
Your Purchase includes :
The game as a DRM-Free download and software, for Windows.
Wallpapers of the game
Concept Art Drwaings
Video of the making of a concept art drawing
Access to all future updates, enhancements and new content for the game.
- What can you expect with the updates?
The game is complete now, and all its features are developed and included...but that doesn't mean that there's no room for more features, like new enemies, maps and game modes that could be added in the future, and with your feedback.
- What about releasing the game for "X" platform?
Currently, the game is available only on WIndows, but more platforms may be supported in the future.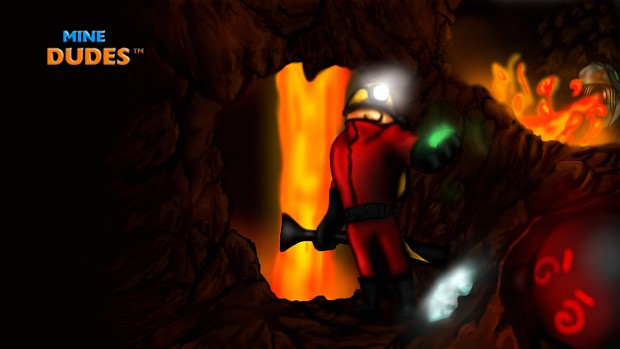 FEATURES OF THE GAME :
Brutally hard platform designs
Use your gun to destroy and rebuild the scenery as you please, explore the caverns creating your own paths, and bury your enemies under piles of rock.
15 maps divided in 3 different worlds, designed to test your abilities, with traps and dangers ranging from pits full of lava to giant water sprinklers, industrial fans and freezing lasers.
2 randomly generated maps, for a different experience in each round. Randomly generated elements in all the maps.
Split-screen multiplayer with support for 2 players.
Local Network and Direct IP multiplayer with support for 4 players. Play against your friends!
Single Player mode with both local and online highscore systems. Can you reach the global top 10?
Controllers are fully supported (and recommended)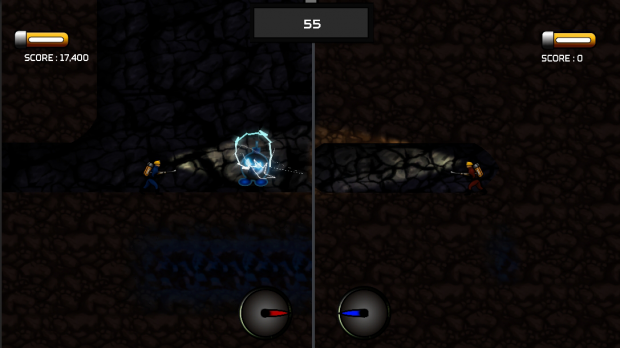 Different single player game modes, including :
Survival : Try to get as many points as possible without dying.
Time Trial : Play against the clock.
Marathon : Clock is ticking...keep diggind and collecting treasures to get extra seconds...and try to last as much as you can.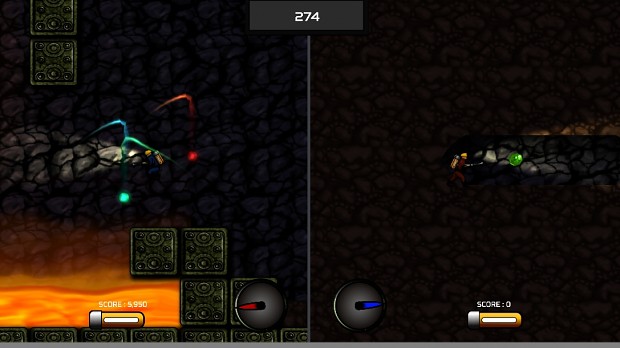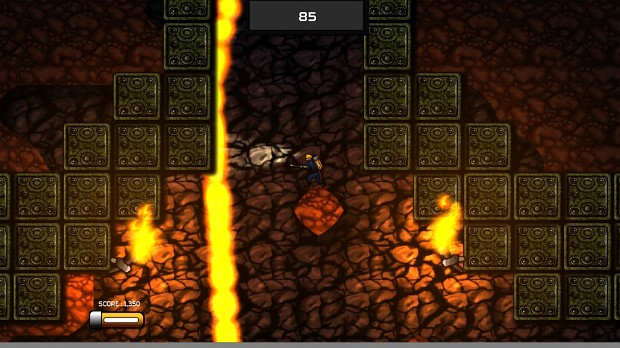 Different Multiplayer modes, including :
Fast Mining : Try to get as many treasures as possible before the time runs out. Kill other players to steal their treasures, and win more points.

Orb Hunters : Collect jewels that will be kept inside the magical orb...keep and protect the orb for a specific amount of time to get the treasures collected by all the players.
If you have any question about anything related with the game, ask it in the comments section. We will reply to every question as fast as possible.
Enjoy the game, and happy new year to everyone!
The Irreverent Software Team