THE PUBLIC DEMO OF MINE DUDES IS NOW AVAILABLE
DOWNLOAD IT HERE
The new public demo of Mine Dudes™ is now available for everyone to try the game. It features 2 multiplayer levels for the Split Screen Mode, in two different match types.
Play against a friend and try to survive in the Fire Map "Tombs of Hell" while you try to avoid rivers full of lava and the fire throwing traps of the level, or fly through the air as you try to collect jewels in the Water Map "The Sprinklers".
Requirements for the game :
OS : Windows Xp/Vista/7/8 both 32 and 64 bit versions supported.
Processor : AMD Sempron 1.8Ghz or above (1 core)
RAM : 1Gb or above
VRAM : 256Mb with full support for Pixel Shader 2.0
HDD : 400Mb of free space on the hard drive
Your Purchase includes :
The game as a DRM-Free download and software, for Windows.
Wallpapers of the game
Concept Art Drwaings
Video of the making of a concept art drawing
Access to all future updates, enhancements and new content for the game.
- What can you expect with the updates?
The game is complete now, and all its features are developed and included...but that doesn't mean that there's no room for more features, like new enemies, maps and game modes that could be added in the future, and with your feedback.
- What about releasing the game for "X" platform?
Currently, the game is available only on WIndows, but more platforms may be supported in the future.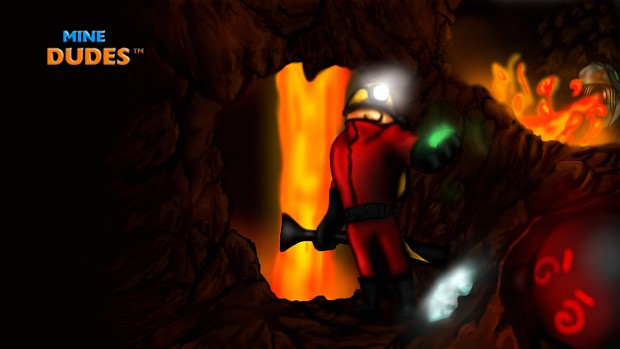 FEATURES OF THE GAME :
Brutally hard platform designs
Use your gun to destroy and rebuild the scenery as you please, explore the caverns creating your own paths, and bury your enemies under piles of rock.
15 maps divided in 3 different worlds, designed to test your abilities, with traps and dangers ranging from pits full of lava to giant water sprinklers, industrial fans and freezing lasers.
2 randomly generated maps, for a different experience in each round. Randomly generated elements in all the maps.
Split-screen multiplayer with support for 2 players.
Local Network and Direct IP multiplayer with support for 4 players. Play against your friends!
Single Player mode with both local and online highscore systems. Can you reach the global top 10?
Controllers are fully supported (and recommended)
If you have any question about anything related with the game, ask it in the comments section. We will reply to every question as fast as possible.
Enjoy the game!
The Irreverent Software Team