Finally after 18 months of solo code, sweat and tears, indie game Mind Control, is live on Android and iOS!
Download Mind Control now!
Android: Bit.ly
iOS: Apple.co

Put your brain to the test if you think you are up to the challenges that await in the 25 hand-crafted puzzle levels of Mind Control. Good luck...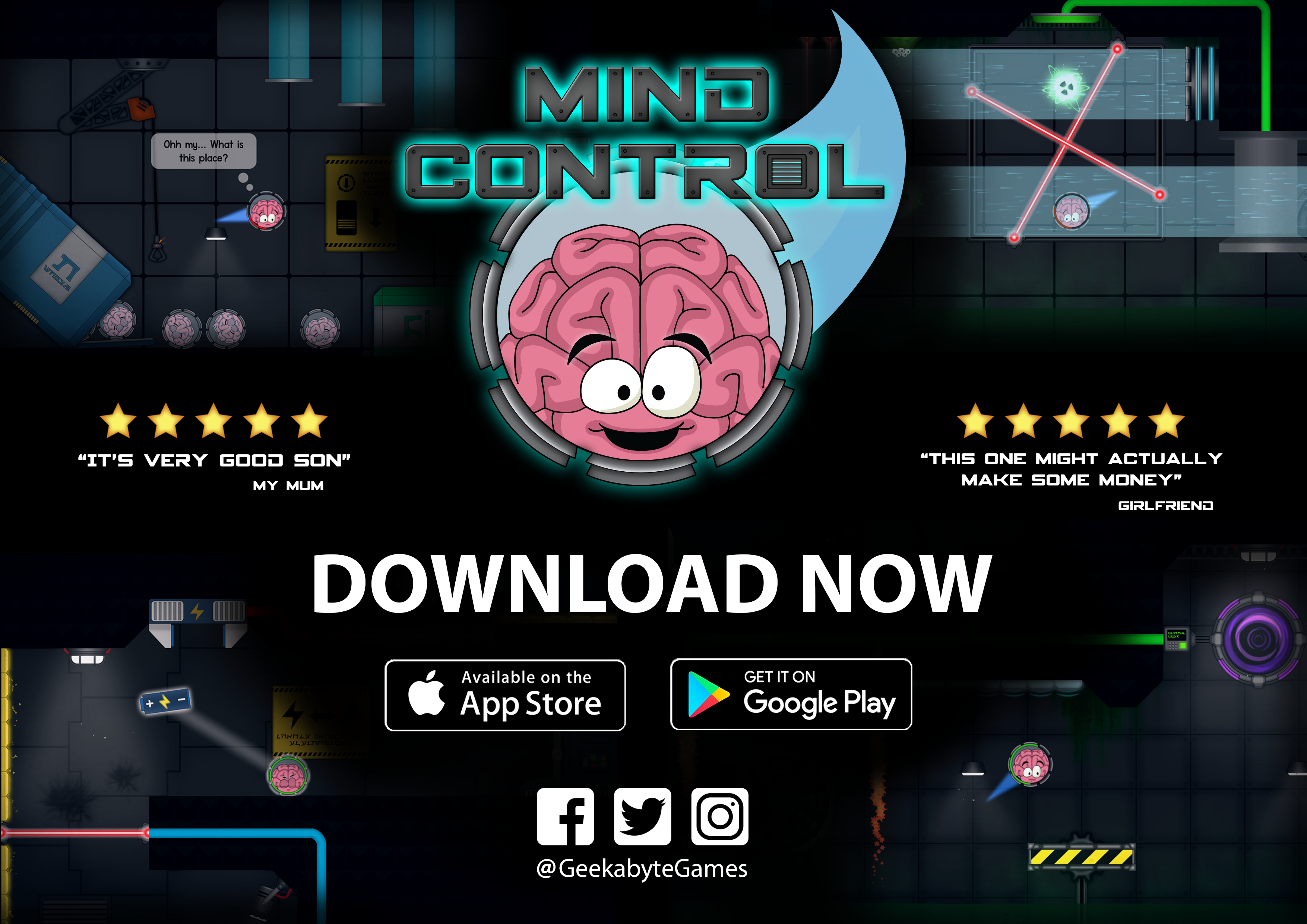 Mind Control was a solo developed project over a year and a half period. Developed almost entirely in my spare time, I am thrilled to see the game finally live for download. Many thanks to all those who have helped directly, offered feedback, tested the game or just shown their support during the development of Mind Control.
Designed from the ground up to be a challenging puzzle/platformer experience, Mind Control was inspired by PC puzzle games like the portal series. I endeavored to bring the intriguing and amusing narrative as well as interesting puzzle design to the mobile platform in a way that felt like it belonged. Mind Control does away with clunky on screen controls, instead featuring an intuitive swipe to move control scheme that fully leverages the strength of the mobile platform.

With new puzzle elements and mechanics introduced in almost every level, the gameplay in Mind Control stays fresh and challenging. Think you've got the hang of deadly lasers? Watch out because that missile launching is locking onto your brain! Each level focuses on teaching and testing the player on a plethora of zany sci-fi elements, from acid pits and flame jets to tractor beams and zero gravity.

The early levels of Mind Control are welcoming to casual players and those new to the puzzle/platform experience. But don't be fooled, Mind Control offers a serious challenge for even the most seasoned mobile gamer. For an added level of challenge try beating the developer's best time in each level. Or earn every star in the game to win a shiny achievement and some serious bragging rights.

As an indie developer, getting noticed can be hard, so be sure to download the game and don't forget to rate the app on your favorite app store if you enjoyed playing.

See you on the leaderboards!