Hay there everyone,
Sorry about the long delay but fear not! It's time to release some more pictures and info to our fans. The team has been working hard and I have some great stuff to share today.
First I want to showcase some more artwork from our very own Babaganoosh99.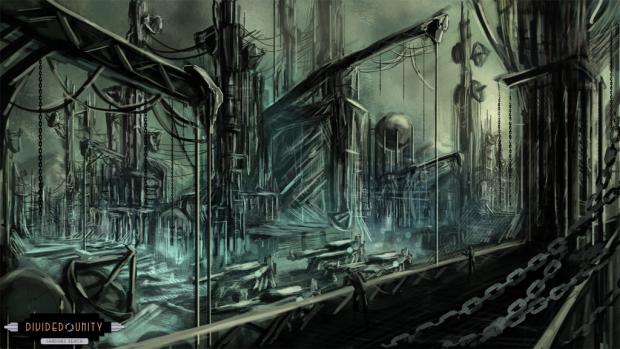 I posted this a while back. This is the RP Repair Facilities in solace, located in the industrial district of the town. It's here where the RPs are maintained and made ready for all the new recruits learning how to operate them. We wanted to draw a lot of inspiration from oil refineries giving it a really harsh and diesel look to it.
A hop and a skip away we have our next part of town, the RP range. This is where newbie pilots come to learn to manipulate the controls of their RPs and participate in live fire exercises. With the range far away from all civilians and the recruits safely operating from a bunker under the Base of Operations Building there is very little chance for accidents.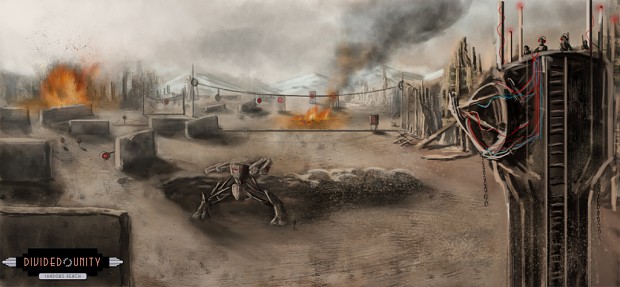 Next, I want to showcase some work from AmberKeegan, but before I get to that a little bit of lore.
When Nathaniel Nomol united the country one of his first acts as Prime Regent was to create a unified military. He then immediately began constructing training bases, and ordered the entire unified military to begin training exercises at once. These training exercises helped to solidify the bonds Nomol had already placed between the territories.
Nathaniel understood however that the ties to the individual territories were a great source of pride for the people, and could never, nor should ever be erased. Thus when he created the new uniform he made sure a patch was included on the right arm that identified which territory the person belonged to.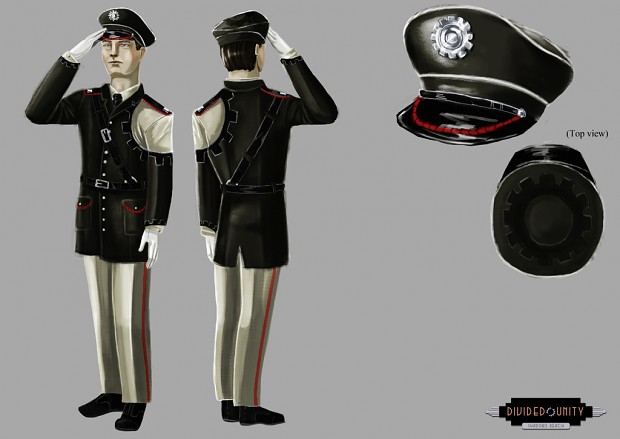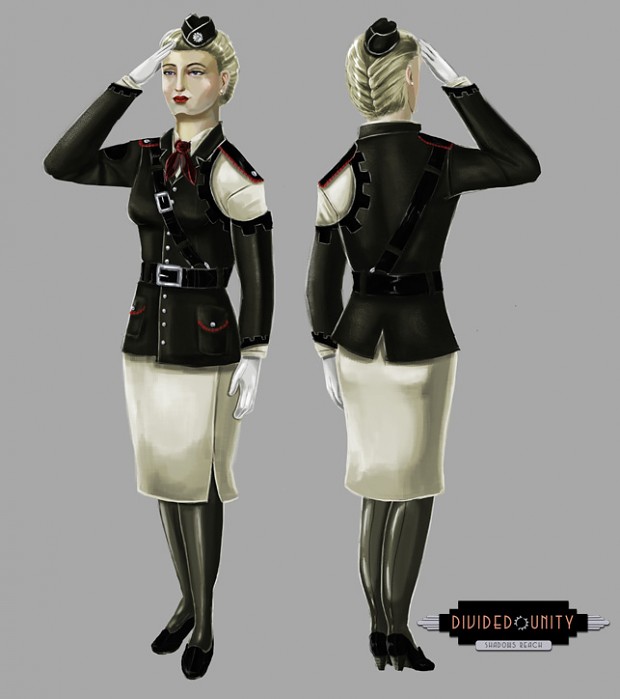 Here we have the officer uniforms for male and female. These uniforms are worn by high ranking officials as well as in ceremonies and other official events. Most of the unified military however do not wear these uniforms; instead they wear Battle Dress Uniforms (BDU's) or jumpsuits for RP pilots.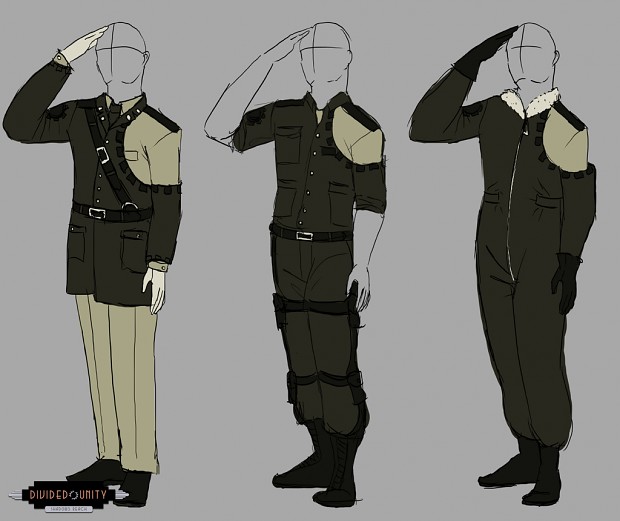 These uniforms are much more comfortable and function more efficiently in day to day operations.
Well, a quite update on the rest of the team and that will be it for today's post:
-IFM is pumping out some sweet tunes that will be used in the menu music, its only short segments but it's coming along really nicely. I hope to have something to post here soon for you all to listen to.
-DragonSage is still churning out that lore. Currently he is working on the Koltis, big bad scary jailers who poisoned their own homeland just to prevent criminals from escaping from their jails.
-KilluH is working on the RP's weapons and should have some awesome concepts soon!
-Xian is working on the UI and polishing up some ideas she has for it.
-Myself, I am working on creating the first props to be used in game based off concepts from Babaganoosh99
Finally I would just like to say thanks to all the fans for your support and I would like to offer an invitation to anyone who would like to join the team. We are currently looking for 3D Environment and Character artists as well as programmers familiar with UDK to join our team. Please if you are interested or know someone who is, drop us a line at 2oldmenstudios@gmail.com.
Till Next time!