As you can see, the gui has been changed up a bit to give the player a more visual response to the game: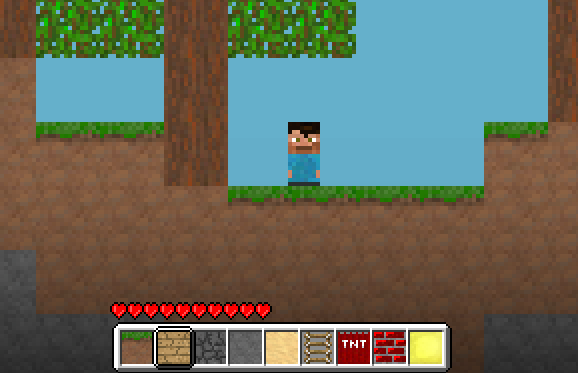 Exploring caves becomes more exciting when you are unsure what lies ahead:
If you don't feel like exploring in this view, simply zoom out:
Change Log:
Fixed a bedrock bug.
Fixed a skybox bug.
Greatly expanded the terrain distance (still not infinite).
Terrain has been overall lowered.
Fixed an error that was created when spawning at a fast rate.
Players are now restricted to the map area properly.
Trees spawn more often.
Decreased the delay time for breaking bricks downwards.
Fixed the visual zoomed out feature.
Fixed death not showing up in zoom mode.
Fixed caves and improved their design.
Changed the map default generation size to 20 chunks.
Removed the x and y coordinates from the save file.
The game now starts in zoomed mode after the intro.
Enemies have been temporarily removed. They need some more design.
I'd love to hear some feedback, so give this game a try if you'd like!