Hello and welcome back to another update of Forgotten Hope! Today we are very proud as we are ready to show off the very first map to be featured in the upcoming Battle of the Bulge patch. Enjoy!
Our first item today is a very important one. We are proud to present our first Battle of the Bulge map; Meuse River-1944 by Fenring. In this snowy landscape, players will find themselves using all the elements of combined arms as either German or American soldiers, tankers, pilots, and artillery gunners. Additional art for the map was done by Kettcar.
Across the western edge of the Ardennes massif runs the Meuse River. This river, throughout history, has been the natural line of resistance against an enemy advancing from east to west over the Belgian highlands. Within forty-eight hours of the launching of the 1944 attack the Allied high command diagnosed the enemy intent as that of driving to the Meuse in the vicinity of Liege. You may take part in the battle on side of the Allies to stop the invading forces or join the German attack to cross the river.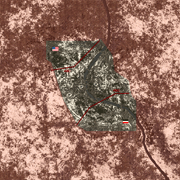 That's all for this week, but be sure to come back next time for another update. Until then, feel free to visit our IRC channel and our public forums.