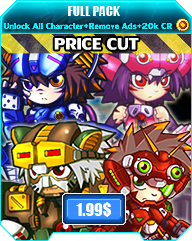 The new patch of Metaloid: Reactor Guardian is release for android version we do several bug fix and change but biggest change is now the game price drop to 1.99$ for Full Pack and 0.99$ for each character unlock [if you only want to unlock specific characters].
[Patch]
- Add Mini power core item allow player fill reactor power easier while in combat but not provide game score.
- Large power core now provide player small EN recover give player chance to use extra weapon more often.
- Rework Zeta main gun.
- Cut the game price for half.
- Several bug fix.
[Feature]
- Unlock All characters
- 20000 CR
- Ads Remove
You can get the game via Play Store [for free!]
Play.google.com
Or visit our face book to learn our upcoming game.
Facebook.com