Ho ho ho! Merry Christmas, all!
Down to get merry
It's that most fabulous time of year again - the time when it is considered not only acceptable, but appropriate to hang around at work after hours, get drunk on cheap wine, dance on your desk and shout incoherent profanities at your boss before stumbling home with your pants on your head and falling asleep on your kitchen table. Huzzah!
Hopefully we find you in similarly happy spirits. And if we don't, hopefully things improve for you soon.
It's certainly been a frantic year for us at Stellar Parallax. We've certainly had our share of triumphs. We started the year on a high after the release of Armada 3's gargantuan expansion, The Final Frontier, in the final days of 2016. We remain very proud of our accomplishments with Armada 3, and it's still not done. The TFF 1.05 patch was well received and addressed a number of the more pressing concerns some players had, and the final 1.1 update remains in development - thanks, Ambarenya!
Meanwhile, the newest version of Armada 3, Nemesis, was announced early in the year. A project spearheaded by Bane, Nemesis originated as a multiplayer-focused spinoff of The Final Frontier, but let's be honest - it's grown into a whole new version of Armada 3 with its own unique game mode, additional units and is specially balanced for faster gameplay. Nemesis is currently in the balancing/testing phase and with luck should be ready for download early in the new year.
2017 unfortunately had a big disappointment for us, too. Work continued on our Stellaris project, Star Trek Infinities almost right up to the end, but real life commitments gradually took team members away from the project until only a small handful of people were able to commit reliably to the mod. In the end progress slowed to a crawl and we decided, as a team, that a full conversion mod for a game the size of Stellaris needed a much larger team and it was unreasonable and unfair to asign such a large task to such a small team. It was with great sadness that we cancelled Infinities, not least because we were worried doing so would sacrifice the faith and good will we've built up with our supporters. We were so relieved when, instead, many of you offered us your continuing support, encouragement and friendship. Thank you, all. Truly.
"Stop living in the past, Orion, ya mongrel! Tell us about Ages of the Federation!"
Make me.
"Orion!"
Okay, okay. We were very excited earlier this year to unveil our latest project - Ages of the Federation. Actually, it would be more accurate to calle AotF our newest projects. Plural. You see, Ages of the Federation is going to be a whole series of full conversion mods, each one taking place in a different period of Star Trek history prior to the events of the Dominion War.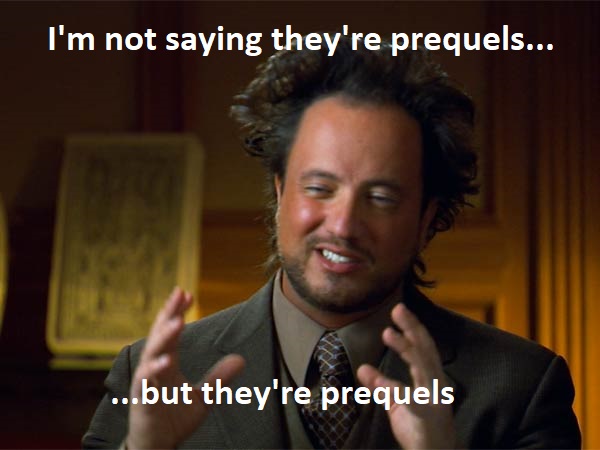 The dreaded 'P' word
Well, not quite, Mr. Tsoukalos. The point of Ages of the Federation is to create a series of mods that allow players to experience unique, tactical gameplay in each unique time period of Star Trek history. Star Trek is a rich science fiction universe with a storied history, most of which is rarely covered in detail - what happened between the times of Archer and Kirk? How did the Enterprise-B prevent a war with the Romulans? What was going on in the galaxy when the Enterprise-C bravely sacrificed itself protecting Narendra III? What started the Border Wars with the Cardassian Union? These events have shaped the Star Trek story, but have rarely, if ever, been seen on screen. The first release of Ages of the Federation will be set in the first half of the 23rd Century, between the events of Enterprise and The Original Series, and will feature some classic and legendary favourites. ;)
This has been a great and exciting challenge so far. The fact that these time periods are so rarely covered means that our artists are allowed (and in fact required) to exercise a great deal of creativity while still remaining respectful of the canon of the prime timeline. We're very proud of our artists and I'm happy to say that the ship lists for the Federation and the Klingons are already mostly complete. We'll be unveiling the Romulans soon. Our secret fourth faction, however, will remain under wraps for now. ;)
"So where at you at in develpment at the moment? Spill the beans, Orion!"
Well, we're still nowehere near close enough to give anything resembling a release date, but progress on AotF is proceeding at a cracking pace. This is thanks largely to you - our supporters, some of whom have stuck with us through thick and thin for years now. This project wouldn't be happening without you and we really appreciate your ongoing encouragement. Whether you've been with us from the start or you're new to the party, you have our thanks.
To each and every one of you, we wish you all a Merry Christmas, a happy and restful holiday and a fun new year. All the best until the next update.
Til next time, stay classy. Or don't.
- OrionSlaver